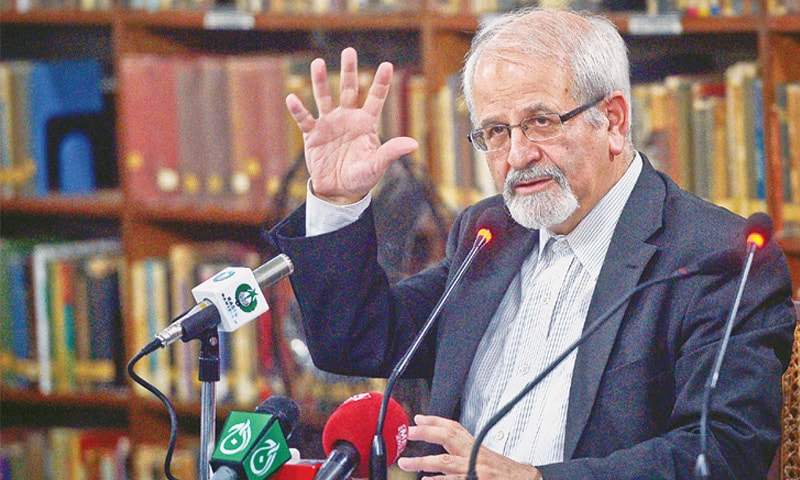 KARACHI: Iran and Pakistan have no option but to work together despite the obstacles created by "third parties", and this cooperation can help stabilise the region, said Iran's Deputy Foreign Minister Dr Seyed Mohammad Kazem Sajjadpour here on Thursday.
The senior official, who has held several posts within the Iranian diplomatic machinery and heads the Centre for International Research and Education, was delivering a lecture on 'Pakistan's Place in Iran's Strategic Thinking' at the Pakistan Institute of International Affairs.
"We [Pakistan and Iran] have no option other than to work together for our security, survival and preservation of our heritage. We need each other to secure and insulate our nations from" the state of flux that was rocking the global environment, he said. "Iran and Pakistan can reshape this region in a much better way. Our strategic interest is to" cooperate and expand cooperation, he added.
Dr Sajjadpour gave a detailed analysis of what he felt were the key issues affecting the global environment before moving into the Pakistan-Iran bilateral relationship. He said the global situation could be described through the help of three 'Ts'.
The first 'T', he said, was turmoil. "There is turmoil in all levels; turmoil in institutions. Look at what happened to the European Union with the exit of Britain. This has caused shocks and a ripple effect. There is turmoil in mentalities; today politicians have one position, tomorrow they have another", he said, adding that Republican White House hopeful Donald Trump was a prime example of this behaviour. "It's not just a personal issue, it's suggestive of a phenomenon," Dr Sajjadpour observed with reference to Mr Trump's antics.
"The concept of the nation state is in turmoil", especially in the Arab states, said the Iranian diplomat. "There is turmoil in our surroundings, a perpetual ingredient in daily life."
Shifting power
The second 'T', he said, was transition, with many ambiguities. "Transitions are excruciating processes. There is transition in the global system in many dimensions. There is transition in the concept of power. Is the US powerful? Yes. Can it exert its power? No, military power is not enough. Power-holders are becoming multiple. Now non-state actors are sometimes more powerful than states; ISIS [the militant Islamic State group] is one of them. Individuals have become powerful. Look at what [Edward] Snowden did. He challenged a great power, which he is a citizen of. The power locale is also changing," he observed, adding that power was shifting from the West, primarily the US and Europe, to Asia, particularly China.
The third 'T', according to Dr Sajjadpour, affecting the world order, was trends of conflicting nature. "Globalisation is everywhere. But also, there is narrow-minded localisation, much lower than tribal mentality. There is purely personal and factional interest along with global interest. There is closeness of the world today, but it is also [growing] apart."
In such a global and regional environment, Dr Sajjadpour said, Iran and Pakistan had no option but to work together. "We and Pakistan are neighbours. Do we have any other option than to be carefully watching our interests and minimising the impacts of these global trends [working] against our interests? We have no other option."
'Special neighbours'
The Iranian deputy FM said: "Our bonds should be appreciated. We are special neighbours. We are good neighbours with Armenia; [but this] can't be compared with Pakistan. We have 15 neighbours, [but] our bonds with Pakistan are unique — regional, civilisational, linguistic, political, economic, strategic bonds, the list goes on. Our bonds need to be taken more seriously; they should be nurtured at this time of transition."
Without naming regional and extra-regional actors, Dr Sajjadpour said: "These bonds are independent of third parties. There are many third parties who want to destroy these bonds. More cooperation is needed to make these bonds stronger."
In Iran, he observed, there was a consensus on cooperating with Pakistan. "I have never [heard] one single dissenting voice on cooperation with Pakistan. I think here also there is consensus. We have to take this friendship more seriously."
Answering questions from the audience, Dr Sajjadpour denied Iran was pursuing a sectarian foreign policy. "Others pursue a sectarian policy. The sectarian narrative has nothing to do with the policy of Iran. We are for Muslim unity." He said there was a desire in some quarters to "weaken Muslim societies economically, socially and politically. We should be careful."
Later, addressing journalists and former and present diplomats at an event organised by Karachi Council for Foreign Relations, Dr Sajjadpour said he noticed a few assumptions held by his Pakistani counterparts. "These assumptions are based on a misconstrued belief that Iran is a sectarian player. That it wants marginalisation of Pakistani society based on sect. Pakistanis are only used as proxies by Iran. And, the Iranians don't take Pakistanis as seriously as they did before and after the revolution of 1979," he explained.
These assumptions, he said, were created for political and strategic purposes. "It'd be in both our countries interest if former assumptions are deconstructed and corrected. And in its place, we focus on the fact that both Iran and Pakistan share a solid relationship," he added.
However, he made it clear at the outset of the event that his views were not an official Iranian version of circumstances both Iran and Pakistan find themselves in rather based on his thinking. Keeping in mind the "realities of the region", as Dr Sajjadpour put it, he said there were challenges facing both the countries. And that the Iran-Pak relations are "far better than they were around three years back." In order to face those challenges, he added, the two brotherly countries needed to focus on a few building blocks. "Keeping our geography in mind, we can build a spectacular structure based on economic, cultural and individual exchanges between the two states and their people," he said.
The deputy FM added that one of the biggest causes of increasing turmoil was the fear factor. "Fear of the other. And both our countries need to initiate a concept of meeting each other and talking out the differences rather than relying on assumptions."
Published in Dawn, August 12th, 2016