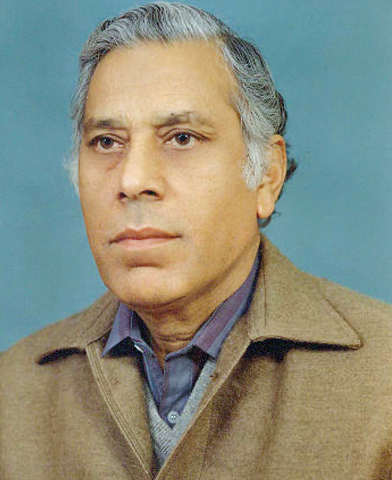 ISLAMABAD: "This is a newspaper office, not the fire brigade," veteran journalist Mirza Hassan Akhtar had exclaimed when someone from a government department called the Dawn office to ask for coverage of an event that was due to begin in an hour's time.
This was a time long before the advent of electronic media; when assignment editors and bureau chiefs would assign events for coverage at least one day in advance.
Known as 'Nawab Sahib' to friends and colleagues, the former Dawn bureau chief in Islamabad passed away peacefully on Thursday after a brief illness. He was 88.
Born in Lahore in 1928 to family of educationists, Akhtar was brought up in a household that directly contributed to the creation of Pakistan and performed invaluable services towards the promotion of education, particularly among the Muslims of pre-partition India.
---
Former Dawn Islamabad bureau chief laid to rest on Thursday
---
His father, Mirza Mohammad Saeed, was a well-known professor of English at the Government College, Lahore; his mother was the great-granddaughter of Sir Syed Ahmed Khan, founder of the historic MAO College, which later became Aligarh University.
Unlike the stereotype of journalists as disorganised individuals, Akhtar led a disciplined life, close associates and old colleagues recall. According to his old colleagues, he was very punctual and always reached the spot on time.
"We nicknamed him 'Nawab Sahib' because of his sophisticated personality," senior journalist Shahid-ur-Rehman, a long-time colleague and close friend of Akhtar's, told Dawn.
"I remember that long before mineral water became common, he always brought his own drinking water with him. He was watched what he ate and was meticulous about his diet," recalled Mr Rehman, whose 42-year professional association with Akhtar began in 1974 at the Daily Morning News in Rawalpindi.
According to Mr Rehman, Akhtar was very "selective about his friends". "He was a thorough professional and very set in his ways. Whatever he wrote, he wrote with authenticity," he added.
Akhtar began his career at the age of 20 with the Associated Press of Pakistan (APP) in Karachi, soon after independence, when the news agency was being run under a trust.
Later, he served APP in various cities, including Rawalpindi, Quetta and Dhaka. He had also worked as an APP correspondent in India for some time.
In 1961, the news agency was taken over by the government through an ordinance. This was ostensibly promulgated to put APP on sound financial footing, but journalists associated with it were allowed to retain their independent status. They were not regarded as government or semi-government employees and were governed by labour laws, which also govern those working in the newspaper industry.
During his career in journalism, spanning over five decades, Akhtar had the privilege to work with some of leading personalities in Pakistan's history, such as Quaid-i-Azam Mohammad Ali Jinnah, Fatima Jinnah and former prime minister Zulfikar Ali Bhutto. He had also briefly assisted Fatima Jinnah in her political career.
It was perhaps due to his support for Ms Jinnah in her campaign against military dictator Field Marshal Ayub Khan that Akhtar earned a great deal of respect from the founder of the PPP. According to colleagues and family members, he frequently remained in direct contact with Mr Bhutto.
He also witnessed and covered the signing of the historic Simla Agreement between India and Pakistan in 1972.
It was due to his independent nature that Akhtar later quit the APP and joined an English daily, the Morning News Karachi as its Rawalpindi bureau chief. He also worked for the BBC Urdu Service and as a correspondent for the London Times in Pakistan.
He replaced M.A. Mansuri as bureau chief of Dawn in Islamabad when the latter resigned to move to the UK in the early 1980s. Akhtar remained associated with Dawn till his retirement in 1988, but continued to write parliamentary diaries and other reports for the newspaper. He also wrote on foreign policy matters and covered visits by foreign dignitaries.
Akhtar leaves behind a widow, a son, a daughter and seven grandchildren to mourn his death. His funeral prayers were offered in Islamabad on Thursday evening. He was then laid to rest at the H-11 graveyard.
His funeral prayers were attended by a number of local journalists, besides old friends and family members. His qul will be offered after Asr prayers on Friday at his residence: House 96, Street 22, Sector F-10/2.
Published in Dawn, June 24th, 2016