DUBAI: Indian Prime Minister Narendra Modi paid his first official visit to gas-rich Qatar where he met the Gulf country's leaders on Sunday to discuss economic ties.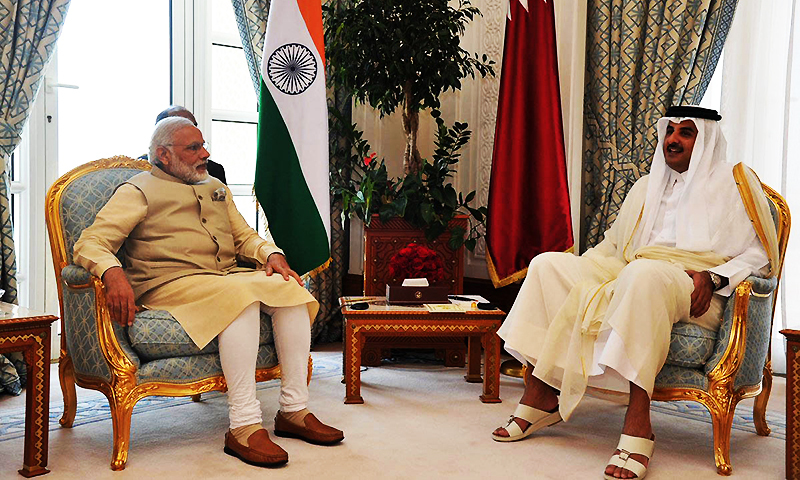 Modi and Qatar's ruler, Sheikh Tamim bin Hamad Al Thani, who visited India in March 2015, signed seven agreements to strengthen ties, according to the official Twitter account of India's Foreign Ministry spokesman, Vikas Swarup.
Modi also met Qatari businessmen and encouraged them to invest more in India, calling it "a land of opportunity".
Qatar is one of the world's largest suppliers of liquefied natural gas. Qatari media says it supplies India with more than 85 per cent of its gas needs.
The Indian Embassy says bilateral trade reached $15.7 billion in 2014- 2015, though just around $1bn of that constituted Indian exports to Qatar. Since 2010, India has been purchasing 7.5 million tons of LNG every year from Qatar.
The Qatar Investment Authority has several large-scale investments in India, including a more than $1bn stake in telecommunications company Bharati Airtel.
Qatar Airways has expressed interest in expanding its routes to India and in buying a stake in budget airline IndiGo.
Modi arrived on Saturday and met with Indian labourers that evening, telling them he is aware of the conditions they face in Qatar. Modi, who is active on Twitter, posted photos of himself dining and chatting with the workers.
"If you have some issues on changing some rules and regulations, I will work with you all to bring about these changes," Modi told the workers.
There are more than a half-million Indians living in Qatar, many working lower paying construction jobs and building stadiums that will host the 2022 World Cup. Foreigners account for roughly 90pc of the 2.5m people living in Qatar.
An Amnesty International report this year found that migrant labourers face abuse that in some cases amounts to forced labour.
The report said workers reported living in squalid conditions, salary payments being withheld for months and having their passports confiscated by sponsoring employees.