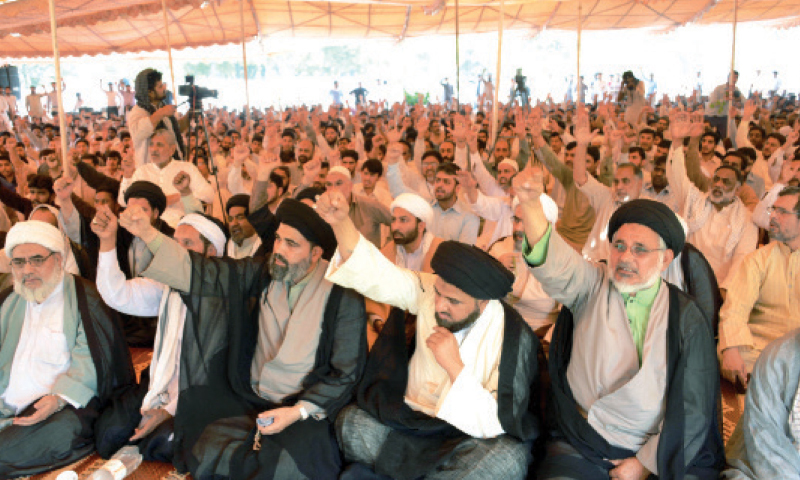 ISLAMABAD: The participants of a hunger strike here on Friday criticised the federal and provincial governments for their failure to protect the lives of citizens.
The hunger strike camp has been set up by Majlis Wahdatul Muslimeen (MWM) outside the National Press Club (NPC) against the target killings of the Shia community members in the country.
After offering Friday prayers at the hunger strike camp, the speakers, including Allama Hasan Zafar Naqvi, also criticised the ineffectiveness of the National Action Plan (NAP) and said the government remained unmoved by the peaceful hunger strike.
"It is only because of this adamant attitude of the authorities that even peaceful protesters become agitators. And when they block roads or damage property, their demands are taken seriously," Allama Naqvi said, adding: "But we will remain peaceful."
A delegation of the PPP and the Muttahida Qaumi Movement (MQM) also visited the hunger strike camp and expressed sympathies with the participants.
The PPP delegation was led by the party's vice president Senator Sherry Rehman and included Senator Taj Haider, former MNA Zamrud Khan, Senator Sassui Palejo, Senator Rubina Khalid and former MNA Ghulam Murtaza Satti.
Ms Rehman said the federal government was turning a blind eye to the plight of the Shia community.
"The purpose of NAP was not to impart selective justice, and that the government cannot continue ignoring these killings." She said while banned outfits had been targeting members of the Shia community with impunity, security forces also opened fire on peaceful protesters.
She referred to an incident last week in which people took out a protest after a religious leader was refused an entry into the Kurram Agency for celebrating the birth anniversary of Imam Hussain (AS). Four of the Shia protesters were killed when security forces opened fire on them.
She said according to a conservative estimate at least 250 Shia community members were killed in 2015 after the enactment of NAP.
The delegation of the MQM, led by Senator Mian Ateeq, also deplored the target killings.
Mr Ateeq expressed sorrow and criticised the assassination of renowned social activist Khurram Zaki.
He was informed that in April and May this year, Shia professionals were targeted in different cities of Pakistan, especially in Dera Ismail Khan, Peshawar, Charsadda and Karachi.
The MQM senator said these killings were a conspiracy to trigger a brain drain from the country and divide the society on the basis of sects.
Published in Dawn, May 21st, 2016