During the late '60s and the early '70s, Karachi was a thriving tourist spot, and a favourite thoroughfare for the holidaymakers from the West. One can never forget those good days when bazaars, hotels, clubs and the beaches of Karachi, thronged with tourists. However, over the decades, the city has experienced turmoil which forces its citizens to remain anxious and on the edge. Nevertheless, nowadays there are many people who are inclined to revive the city's identity as a cultural platform. One such personality was late Sabeen Mahmud, founder / director of The Second Floor (T2F), who had a dream to transform the declining fortunes of the city by motivating the youth through collaborative creativity.
Spearheaded by Marvi Mazhar, the current director of T2F, the Creative Karachi Festival (CKF) 2016, was held at the Alliance Françoise over the past weekend. This was a sequel to the last CKF organised in 2014, and marks Sabeen Mahmud's first death anniversary. Apart from performances, food stalls, film screenings, interactive sessions and speeches on the premises, there was a rich segment of artworks exquisitely displayed by painters and artists.  
Amongst the art stalls, black and white drawings and prints by Javeria Arshad depicted monochromatic infinities hidden in everyday forms, especially circles. Her paintings in the Gallery hall were impactful and demonstrate the artist's exclusive expertise in monochromatic expression.
---
The lively festivities of the CKF will reverberate amidst the youth for a very long time
---
The screen printing stall displayed works of Zona Siddiqi and Aruj Vohra. Siddiqi prints on various mediums including apparel and handbags, and she embellishes them with beads, gold thread, and stones, etc. Vohra follows a similar process (without embellishment), and prints custom-made designs, especially vintage cars, on T-shirts and apparel.
Khuda Bux Abro's artworks display his skills as a painter and journalistic illustrator. His calligraphic works appear to discover new areas of anatomy of the alphabet with equally unique colours. His illustration, 'Menace of corruption', in mixed media, which depicts that corruption is like self-destruction, is a remarkable example of the artist's visualisation power.
The works of Anumta Kari in watercolour, pen-and-ink, and cut-outs, are interesting for purity of expression. One can actually feel the ambience she creates illustrating contemporary culture. Fantasy paintings and illustrations by Saad Irfan depict a Hollywood animator and special-effects artist in the making, while the live portrait sketching of Samina Aaly Raza remained a centre of attraction for the old and the young.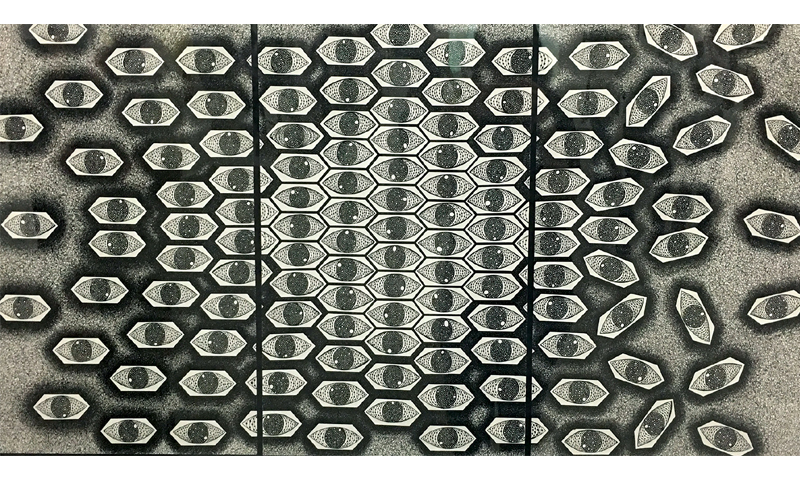 Those who knew Sabeen Mahmud could feel her presence at every juncture of CKF, simply because the event was a practical realisation of an innovative dream. The lively festivities will reverberate amidst youth circles for a very long time and continue to inspire them; hopefully CKF 2017 will light up a fire in the youth for times to come.
Published in Dawn, Sunday Magazine, May 1st, 2016