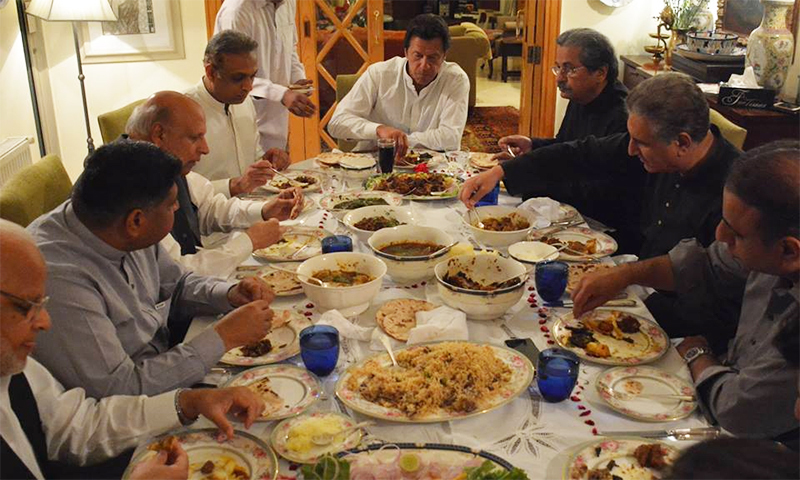 ISLAMABAD: The rifts within one of the main opposition parties in the country came to the fore on Monday, when two of PTI's top leaders from Punjab got embroiled a shouting match.
A heated argument reportedly broke out between Chaudhry Mohammad Sarwar and Shah Mehmood Qureshi – who were the party's chief organisers for north and south Punjab, respectively – on the dinner table during an informal gathering at PTI leader Jahangir Tareen's residence.
Read more: Nazriati Group blames Unity for 'PTI division'
Witnesses told Dawn that party chief Imran Khan walked out of the room, so heated was the war of words between the two men.
A senior party leader and office bearer, who witnessed the argument, said of the disagreement, "it absolutely shouldn't have happened and leaves a bad taste."
The development was quite surprising for all party leaders present at the occasion, the PTI leader said.
When asked what prompted the argument, another party lawmaker explained that the two men had a history.
It all started last May, when Mr Khan dissolved the organisational structure of the party following the recommendations of election commissioner retired Justice Wajihuddin Ahmad.
Also read: PTI's foundation day event a crowd puller
In his report, Justice Wajih had found flaws in the previous intra-party elections held before the last general elections.
Following reorganisation, Mr Sarwar was made chief organizer for all of Punjab, a decision which was questioned by Mr Qureshi. As a result, Imran Khan divided Punjab into two and handed over the task of party organization in the southern divisions of the province to Mr Qureshi.
Although Mr Sarwar accepted the party leadership's orders, the lawmaker said, he would regularly crib about the division of his assignment in private conversations. In the run up to the intra-party elections, that were scheduled to be held this year, both two sides became further open about their grudges against each other.
Earlier this month, at an intra-party election rally in Lahore, Mr Qureshi publically criticised Mr Sarwar and his primary supporter, Jahangir Tareen.
On Monday night, according to the account of another party leader who was present at the occasion, Mr Sarwar complained that Mr Qureshi – who heads a political committee constituted by Mr Khan that is charged with consulting other political parties over the Panama leaks issue – did not share the details of his meetings with him. Mr Sarwar is also a member of the committee.
In response, Mr Qureshi said that details of whoever he met were duly released to the media. However, it was Chaudhry Sarwar's tone which angered Mr Qureshi, and subsequently both sides could be heard saying "shut up, shut up" to the other. It was at this point, witnesses say, that Mr Khan left the table.
When asked about the exchange, party spokesperson Naeemul Haq acknowledged that a disagreement had taken place, but added that in truly democratic parties, leaders have their own viewpoints on different issues and therefore, there was nothing special about this incident.
Published in Dawn, April 27th, 2016