PESHAWAR: A 7.1 magnitude earthquake jolted parts of Khyber Pakhtunkhwa and Punjab on Sunday afternoon, the Pakistan Meteorological Department said, causing fear and panic among residents who vacated buildings for the duration of the almost 'three-minute-long quake.'
Six people – five in Khyber Pakhtunkhwa one in Gilgit-Baltistan – died from landslides, said a spokesman of the National Disaster Management Authority (NDMA). At least 20 houses were damaged due to the quake.
Twenty seven injured people were admitted to Peshawar's Lady Reading Hospital for treatment, most of whom were discharged after first aid, said Dr Khalid Masood, the hospital's spokesman. He said all injured were in stable conditions.
The quake was felt for a few seconds in Kabul and in Islamabad, where some residents evacuated apartment blocks after tremors shook ceiling fans and furniture.
The quake was also felt in New Delhi, where buildings in the centre swayed and the metro train system was halted temporarily as a precaution.
People rushed out of their homes in the northern region of Indian-administered Kashmir.
"People are on the streets now and we don't know whether to go back inside," said an AFP reporter in Srinagar.
In Pakistan, tremors were felt in Lahore, Islamabad, Rawalpindi, Peshawar, Swat, Chitral, Mardan, Kohat, Hangu, Shangla, Azad Jammu and Kashmir, DawnNews reported.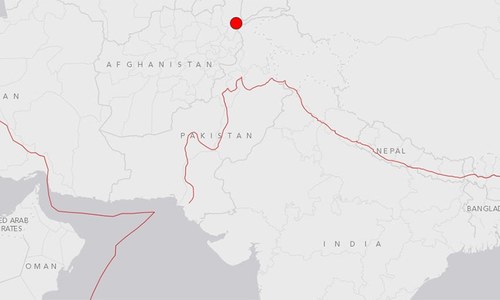 The 7.1 magnitude earthquake struck at around 3:30pm at a depth of 236 kilometres with its epicentre in Afghanistan's Hindu Kush region, the Pakistan Meteorological Department said.
The United States Geological Survey (USGS), however, measured the magnitude of the quake to be 6.6 and said the epicentre was Ashkasham in Afghanistan.
Explore: Eyewitness accounts: 'Pure terror. A minute of quake'
Pakistan is located in the Indus-Tsangpo Suture Zone, which is roughly 200 km north of the Himalaya Front and is defined by an exposed ophiolite chain along its southern margin.
This region has the highest rates of seismicity and largest earthquakes in the Himalaya region, caused mainly by movement on thrust faults.
Along the western margin of the Tibetan Plateau, in the vicinity of south-eastern Afghanistan and western Pakistan, the South Asian plate translates obliquely relative to the Eurasia plate, resulting in a complex fold-and-thrust belt known as the Sulaiman Range.
Faulting in this region includes strike-slip, reverse-slip and oblique-slip motion and often results in shallow, destructive earthquakes.
The PMD recorded about 851 seismic disturbances in 2015.
With additional reporting by Raza Bangash in Islamabad.