The phone snaps to life, the ring tone strident, the caller's name lighting up the screen: Ammi Jaan.
But no one answers this frantic mother.
The phone keeps ringing; who has the courage to take the call? This mother's child has been silenced forever, a victim of the bomb not in a war zone but on a carousel in Lahore where there had been shouts of glee and broad smiles.
Take a look: At least 72 killed in suicide blast as terror revisits Lahore
Now small limbs lie askew, blood smearing the toys scattered amidst shards of glass.
First came the attacks on our police, army, navy, the Rangers, then the humming bazaars and crowded mosques.
As the targets retreated behind barbed wires and layers of security, they set their deadly sights on our children. First schools, now parks.
Why have Pakistan's children come in the line of fire?
Apart from the drivel about soft targets tossed out to apportion blame elsewhere, have we failed our children post the APS tragedy?
Televised songs of patriotism and jubilation with defiant marching kids in uniforms calling out to the terrorists to do their worst; newscasters reading the news clad in uniforms of the slain children, directing salutes to them as if they were warriors, not school kids racing in between classes.
These children were not soldiers. They were killed in their classrooms, not on the killing fields.
See: When 'their' children gun down 'our' children
The American cartoonist Lisa Donnelly won over many a Pakistani heart by a sketch to mark the Lahore killings. Pakistanis reached out to her on social media to convey their thanks for expressing their pain and remembering Lahore.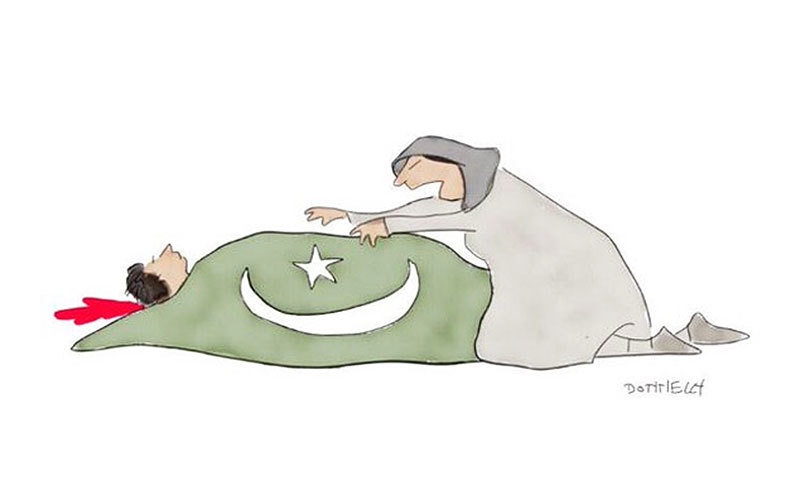 The drawing depicts a mother wailing over the body of her slain bloody child covered in the Pakistan flag. Instead of being grateful, this powerful sketch should give us pause: is this what we as a nation are expecting from our children; to come home in shrouds instead of graduation caps?
And yet.
Validating our grief
What of the increasing number who refuse to read the bloodied writing on the wall? After not owning the war on terror, they are now accusing the West for ignoring their tragedies. The dead are now a commodity for point scoring:
"Let's see if the West is moved by the Lahore blast because more died there than in Brussels"
"Stunning lack of hashtags and flags in support of Lahore"
"I bet five-year-old Haseeb, one of the Lahore victims, would make the front pages of NYT if he were Belgian"
"Belgian lives matter more"
This has started becoming the petulant refrain — why do we look to the West for validation of our grief?
Let's put aside this rather unhealthy obsession with the West and consider the scores of people who came out in solidarity to protest against terrorism in Paris and Brussels. The citizens of those countries refused to be cowed down by terrorists; not only did they not push their children in the front, they marched shoulder to shoulder in unity.
One does not recall them asking why the people of Pakistan did not come out to protest too or why Minar–e–Pakistan was not lit up in France's tricolour.
In Pakistan, on the other hand, a day after the Lahore carnage, there were no marches but there were pictures being shared of the Eiffel Tower lit up in the green and white of the Pakistan flag, only to be told later that this was an old picture dating back to the Rugby Cup at which point people turned back to the familiar venting about poor ol' ignored Pakistan by the heartless West.
Let's cast an unjaundiced eye on ourselves
When Boko Haram was killing hundreds of fellow Muslims in Nigeria, did you see the outrage and grief on social media?
Me neither.
Take a look: I am Charlie, but I am Baga too — On Nigeria's forgotten massacre
After the brouhaha over why Paris attacks were given so much prominence vs attacks in Beirut, Iraq, Pakistan, Myanmar, etc. why were such conscientious Muslims, as we profess to be, not wailing over the next attack that took place in a brotherly Muslim country?
Barely a furrow on the forehead as we continued instagramming lawn and bridal sales and posting food reviews because that is really important, obviously.
What of the people irked by the French flag being part of their friends' Facebook profile pictures who pointedly asked why weren't Lebanese, Palestinian, Iraqi, Pakistani, etc. flags there instead: why did they not make the Nigerian, Syrian, Iraqi or Afghan flag part of their profile pics as a sign of solidarity?
Examine: Beirut, Baghdad, Paris — Are some tragedies more tragic than others?
Which begs the question: do we really care when Muslims kill fellow Muslims? Why blame the West for not highlighting the loss of Muslim lives when we don't shed a tear for them either?
Our outrage after every attack in the West is selective because when a great country mourns its dead and shows no mercy, it holds up a mirror to our hypocrisy. If the reflection is distorted, we need to look it in the eye and stop blaming the usual suspects.
But for that to happen, we will have to step out of our comfort zone of venting against Jews, Israel, America, England, France...the evil West out to destroy Muslims, a job we have been doing very well ourselves, thank you very much.
Have there been any marches of solidarity for the Lahore victims in Pakistan?
The only protesters out on our streets are those who demanding sainthood for Mumtaz Qadri.
What is relevant for them is not the mowing down of tons of kids in Lahore, but the conferring of the title of Shaheed on Qadri and getting rid of Ahmedis.
As evidence of his upcoming saintly status, pro-Qadri supporters were seen paying homage at his grave, belying headlines post his hanging proclaiming "The End of Qadri".
It was actually the beginning of yet another martyr from Pakistan, along with innocent children being used as cannon fodder.