LAHORE: Shahbaz Taseer, a son of slain Punjab Governor Salmaan Taseer who was recovered after being held by kidnappers for over four years, arrived here on Wednesday to unite with his family.
Taseer was flown to Lahore in a special aircraft by intelligence officials, said the Inter-Services Public Relations (ISPR).
In the photographs shared by DG ISPR Asim Bajwa Wednesday morning, Shahbaz has changed from the previous night's shalwar kameez into jeans and a polo shirt. In the second photo, Shahbaz smiles as he points towards the camera and his beard appears to have been trimmed.
Balochistan Inspector General Ahsan Mehboob said Tuesday that Shahbaz was recovered from a hotel on the outskirts of Kuchlak town.
"Security personnel found a man with overgrown beard and long hair, who identified himself as Shahbaz, son of Salmaan Taseer," a senior security official, who was part of the team that recovered the missing Taseer, told Dawn.
After his recovery, Shahbaz was shifted to Quetta.
Anwar Kakar, a spokesperson for the Balochistan government, told Dawn that Shahbaz was found to be in good health, physically and mentally.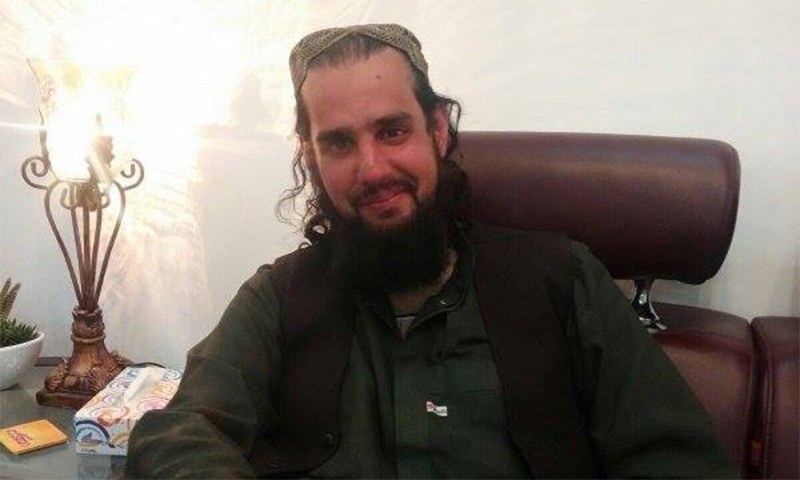 He was then shifted to the Combined Military Hospital in Quetta for a complete medical check-up.
Shahbaz was kidnapped from Lahore on Aug 26, 2011, near his company's head office in Gulberg area. He was driving towards the offices of the First Capital Group off M.M. Alam Road in Gulberg when he was intercepted by the kidnappers.
His was recovered just a week after Salman Taseer's assassin Mumtaz Qadri was executed at Rawalpindi's Adiala Jail.
Celebrations at home
A large number of Shahbaz Taseer's friends, supporters and relatives gathered at the Taseer residence in Cavalry Grounds, Lahore on Wednesday to prepare for his homecoming.
Sweets were distributed and people waited for Taseer's arrival with rose petals at the residence, which is being protected by a contingent of police.
Rescued from Kuchlak
Shahbaz Taseer was recovered from Kuchlak, a suburb of Quetta, which connects Quetta and Balochistan's Pishin district up till the Afghan border at Chaman.
Taseer had walked into Al-Saleem Hotel in Kuchlak, where he had roast for lunch and asked the manager for a phone, to inform his family of his release after almost five years of captivity.
Failing to acquire a phone, he paid his bill of Rs350 and went outside the hotel to find a phone. He eventually got in touch with the relevant people, and was soon after whisked away from the site under heavy escort.
Located at a distance of 25 kilometres from Quetta, Kuchlak witnessed a heavy influx of Afghan refugees after the Soviet invasion of Afghanistan, and the population blossomed to half a million people.