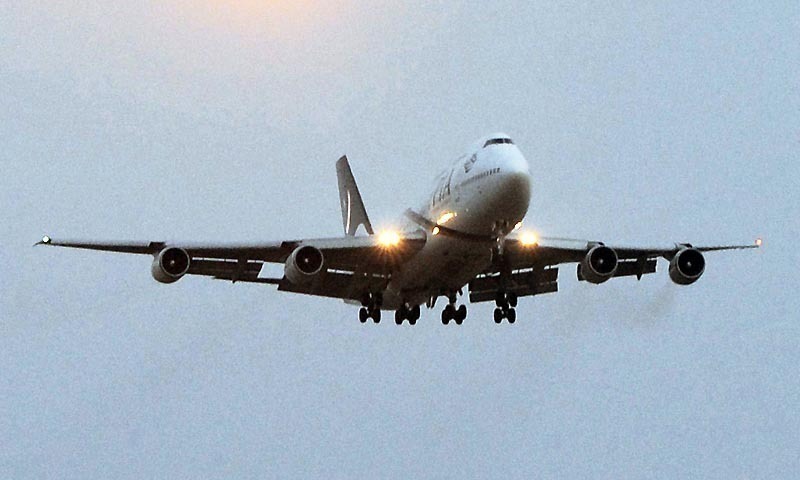 It is unbecoming of a leader of a democracy to talk in a way that is insensitive. Despite the tragedy that befell the protesting PIA employees, when two of their colleagues were killed on Tuesday, Prime Minister Nawaz Sharif adopted a hostile approach towards the union protesters.
In close proximity were some of his ministers who echoed his tone and practically equated PIA union protesters with 'enemies of the state' and warned that they may lose their jobs. All this at a time when workers were insecure about employment and on a day when they were absorbing the shock of the law-enforcement action against them and the death of their comrades.
Whatever one's own opinion of the unions, the protesters and the health of the airline may be, allowing peaceful demonstrators to be killed or injured is a grave tragedy and should be acknowledged as such by the leadership.
For their part, the protesters also need to realise that many people are getting weary of their tactics. They have proven their point by grounding the airline and should now work towards winding down their protests.
Disrupting the lives of the people for too long may not win them the sympathy they see as crucial to their cause. They need to realise that the status quo has become untenable in PIA and a large effort is needed to rescue the national carrier before it collapses altogether, or becomes an even bigger burden on the taxpaying public than it already is.
One of the demands that has been put forward by the union's joint action committee is that "PIA's employees be provided a chance to reform the airline". How are we expected to take this demand seriously? Do they have any plan or vision that goes beyond bravado or sloganeering to undertake such a massive task? What do they propose be done about the accumulated losses which have climbed to Rs300bn?
Cooler heads need to step in to save the situation from deteriorating further.
The opposition parties should not see in this episode an opportunity to make political hay. The PTI thought it could ride the anger of the traders against a withholding tax and ended up looking foolish when the traders cut a deal with the government and wound down their protests. That mistake ought to be avoided.
The need of the hour is for all political forces to urge calm and restraint, stop taking extreme positions, and work towards getting PIA back in the air once again rather than fan the flames of anger. As a first step, the government should refrain from applying the Essential Services Act to PIA.
Instead, the focus should be on how to put the airline back on track. But that will not happen so long as bluster and bravado are calling all shots.
Published in Dawn, February 4th, 2016