Everyone knows about the 1965 and 1971 wars between India and Pakistan. But only a handful of folk are aware of a unique war between the two countries which took place in 1975.
Alas, fresh evidence is emerging confirming that indeed, this war did take place, but was kept a secret by the governments of both the countries.
Famous Indian scientist, Professor Narayan G. Harikishan, has claimed that the 1975 war was neither won by India nor Pakistan, but by Cambodia.
And, this is why it was kept secret.
He made this startling claim at last month's All India Science Convention in New Delhi.
Speaking to leading scientists from all over India, the professor made a presentation in which he exhibited photographs of saucer-shaped objects over Lahore and Delhi during the peak of the war.
He concluded that it was not a conventional war because both the sides used unconventional weapons.
India used nuclear-powered chariots that were constructed from the blueprints of ancient spaceships built in the region thousands of years ago; whereas the Pakistani side used saucer-shaped flying objects fueled by energy extracted from genies (jins)!
Professor Narayan claimed that the photographs were authentic and taken by Indian soldiers in the area where the objects had been sighted.
The pictures were confiscated by the government and only now became known when an Indian antique-collector managed to get his hands on a sari worn by former Indian Prime Minister, Indira Gandhi.
The collector noticed a bulge on the right side of the sari. When he tried to press it down with a moderately hot iron, three such photographs stuck out.
They had been sown on the side of the sari and then an additional piece of cloth was sown over them.
The collector handed over the photos to Professor Narayan who carbon-dated them. He discovered that they were taken in 1975.
One of the photos shows strange objects in the sky over the Pakistan-India border.
Further investigation led the Professor and his team to a site of an ancient temple in Bihar where he met famous Indian archeologist, Dr. Ajay Premnaath, who has been conducting extensive excavation work there.
Dr. Ajay was fascinated by the photos and showed Professor Narayan some of the many discoveries that he had made at the site.
The most curious was an artifact that, according to Dr. Ajay, was the cockpit of one of the many flying chariots that the people of the region had built some 7000 years ago!
This discovery has been hailed by the current BJP government in India as a recognition of the ancient brilliance of the people of the region before such collective genius was stamped out by the arrival of Muslim hordes from the 12th century onwards.
When Dr. Ajay told Professor Narayan that similar cockpits were also discovered from ancient temple sites in Cambodia, Narayan immediately flew to Cambodia where he met with Dr. Pomulla Khmer Andrigaat, an Italian-Cambodian archeologist and a former general in the Cambodian military.
Dr. Pomulla told him that indeed, the ancient people of India had created nuclear-powered chariots that could fly.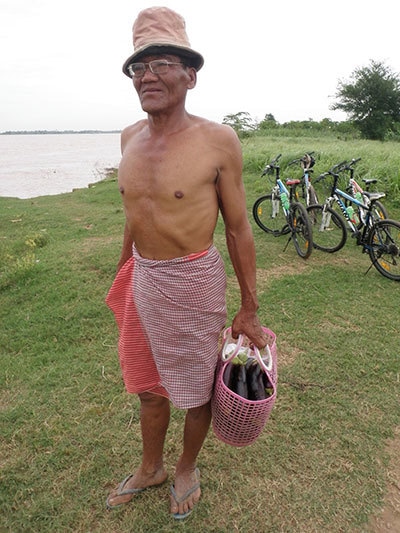 More startlingly was Dr. Pomulla's confession that the lost technology was first rediscovered by Cambodian archeologists in 1962.
According to Dr. Pomulla, Cambodia, which had been an imperial power centuries ago, planned to restore its lost status by building flying objects from the rediscovered technology and utilise a Pakistan-India conflict to annihilate Pakistan, India, Burma and Nepal and conquer the region.
The 1975 Indo-Pakistan war was thus triggered by Cambodia.
It used remodeled flying chariots to bomb certain areas along the Indo-Pak border, triggering a reaction from India and Pakistan.
The Pakistanis unleashed flying machines fueled by energy derived from jins and the Indians let lose flying chariots that they had discovered from ancient sites.
The jin-powered machines are said to have been built by Ziaul Haq (who would be made General by Bhutto in 1976), and famous spiritual-energy-physicist, Orya Maqbool Jan.
Much of the conflict took place 70,000 feet in the air where jin-powered objects and ancient nuclear-powered chariots battled it out, while the remodeled Comedian chariots slipped in undetected to conquer India and Pakistan.
The war was brought to an end when Pakistani PM, ZA Bhutto, met with his Indian counterpart, Indira Gandhi, in Shimla in late 1975. They had first met in Shimla in 1974, but their 1975 meeting there was kept under wraps.
Evidence is also emerging that this time peace between the two countries was brokered by famous pop icon, John Lennon.
The evidence lies in a photograph recently released by Lennon's widow Yoko Ono.
Though Cambodia managed to launch a few of their flying machines during the war and occupy swaths of Pakistani and Indian territories, the machines had to be suddenly recalled and dismantled.
According to Dr. Pomulla, this happened when the scientists who had recreated the ancient flying machines were taken away by an unidentified species from their homes in the dead of the night.
The unidentified species had arrived in saucer-shaped flying machines. But, according to Dr. Pomulla, these machines were not like the ancient flying machines found in Bihar and rebuilt in Cambodia.
Dr. Pomulla told Dr. Narayan, 'these ones were of an extraterrestrial nature …'
This discovery led Dr. Narayan to conclude that most probably the extraterrestrials were from the planet Caprica that is 27 light years away from Earth.
So, maybe, Cambodia too didn't win the 1975 Indo-Pak war. Most probably the winners were Capricans?
When asked this, Dr. Narayan said he will have to watch Season 5 of BattleStar Galactica all over again for the answer.
---
Disclaimer: This article is categorised as satire.