PESHAWAR: A report detailing implementation of the National Action Plan (NAP) in Khyber Pakhtunkhwa (KP) reveals authorities have made over 10,000 arrests, detained over 22,000 people and conducted over 500 search and strike operations in the province from Dec 17, 2014 to Oct 31, 2015.
---
Progress on NAP in KP at a glance:

Search and strike operations: 508
Various incidents of checking: 160,912
Total detained: 22,089
Total arrested: at least 10,087
Total charged: 921
Arms recovered: 3,045
First-Information Reports (FIRs) lodged: at least 2,671
---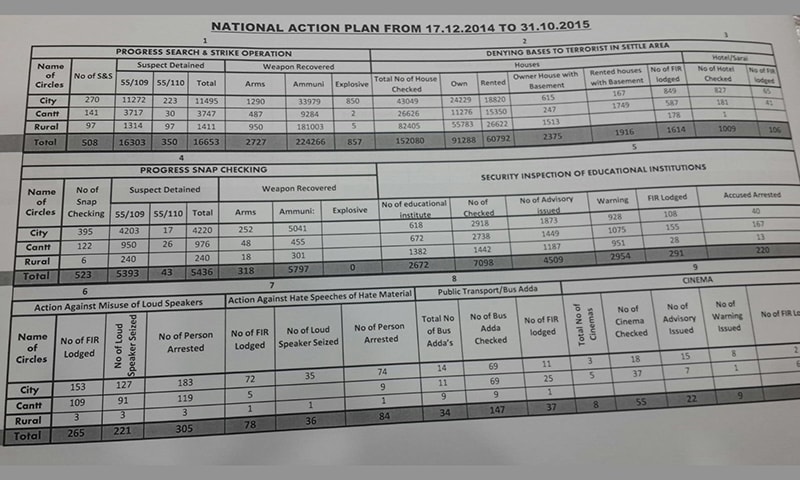 The report obtained by DawnNews details progress along 12 key areas.
Search and strike operations
The report shows a total of 508 search and strike operations were conducted during the period, of which 270 targeted cities, 141 targeted cantonment areas and 97 took place in rural areas.
A total of 16,653 suspects were detained during the operations, while 2,727 arms were recovered. The report shows 857 explosives were recovered and 224,266 ammunition were also recovered during the operations.
Denying basis to terrorists in settled areas
Under the NAP, 152,080 houses were checked. A total of 1,614 First-Information Reports (FIRs) were lodged in relation to these operations.
1,009 hotels were also checked, against which 106 FIRs were lodged.
Snap checking
There have been 523 incidents of snap checking during the time period, during which 5,436 suspects were detained, 318 arms recovered and 5,797 ammunitions recovered.
Inspection of educational institutes
The document reveals 7,098 educational institutes were checked by authorities, while 220 were arrested during the specified time period. A total of 4,509 advisories and 2,954 warnings were issued, while 291 FIRs were lodged.
Action against misuse of loudspeakers, hate speech
The KP government seized 257 loudspeakers for misuse and hate speech and has lodged a total of 343 FIRs against both offences and 389 people arrested since the implementation of NAP was initiated in December last year.
Checking of public transport, cinemas
The KP government says 147 bus stations and 55 cinemas have been checked. At least 37 FIRs were lodged against bus stations and 22 advisories and 9 warnings issued to cinemas.
Fake CNICs
A total of 921 people with fake CNICs were charged, of which 649 were in cities, 83 in cantonment areas and 189 in rural areas. A total of 20 illegal facilitators and agents were uncovered during the crackdown, and 178 FIRs registered. The same number of people were arrested.
Sensitive and vulnerable establishments
The KP government declared 540 establishments ─ of which 77 are situated in cities, 252 in cantonment areas and 211 in rural areas ─ sensitive, and issued 932 advisories and 487 warnings regarding these establishments. Forty four FIRs were lodged in this regard.
At least 809 establishments were declared vulnerable by the government ─ over half of which are situated in cantonment areas. At least 1,037 advisories and 658 warnings were issued in this regard.
Action taken under Section 14, Foreigners Act
About 5,314 cases were registered, while over 9,300 accused were arrested under Section 14 of the Foreigners Act, 1946.
Section 14 refers to penalties applicable upon people who contravene the provisions of the Act.
NAP: Fighting insurgency
Military operations Zarb-i-Azb and the NAP targeting insurgency were set in motion following attacks on Karachi's Jinnah International Airport and Peshawar's Army Public School in 2014.
Officials say at least 3,000 militants have been killed since the launch of the latest offensive.
The number of attacks in Pakistan has fallen around 70 per cent this year, due to a combination of a military offensive against Taliban bases along the Afghan border and government initiatives to tackle militancy.
A meeting of top government officials earlier this week was reminded that NAP progress on counter-terrorism continued to be marred by inadequate effort to implement some of its key elements.
A government source said that the focus of the meeting remained on the areas where the progress was sluggish.
Some of the elements of NAP that have long been identified as poor performing include action against terror financing; foreign funding of seminaries; proscribed organisations and sectarian groups; hate speeches; and madressah reforms. The provincial mechanism for civil-military coordination on security issues too has been experiencing difficulties.
The source said that the same areas continued to remain source of concern.
Despite these issues having been flagged on multiple occasions, the government is struggling to tackle the problematic areas.
Resurgence of sectarianism in different parts of the country was also noted during the meeting.
Another source, when asked about the assessment of the progress by the meeting, had said: "Unfortunately Zarb-i-Azb and associated intelligence-based operations were not being fully complemented by other components of the 20-point National Action Plan."