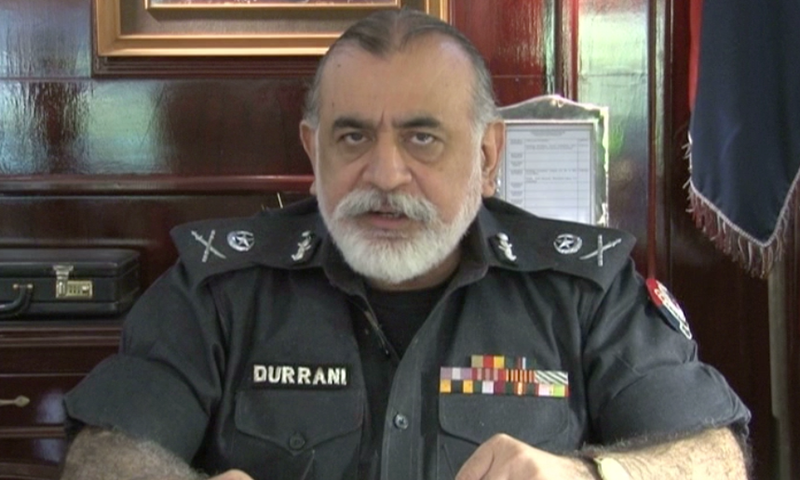 PESHAWAR: Systematic implementation of the National Action Plan (NAP) by Khyber Pakhtunkhwa (KP) police has saved the settled areas of the province from becoming safe heavens for terrorists, Inspector General Police (IGP) Nasir Khan Durrani told DawnNews.
"As the decisive anti-terror operation Zarb-i-Azb started, it was understood that settled areas of KP would the first targets of militancy and it was the biggest challenge for us, which we accepted and were successful in tackling," said Durrani.
KP's IGP said that the anti-terror operation in the province was divided into two phases, defensive and offensive.
Read: Nearly 5,000 cops punished in KP during the past two years
In the defensive phase, some laws and acts were introduced and information gathering mechanisms were introduced and strengthened while during the second phase, raids were conducted to directly arrest terrorists and suspected militants.
Statistics from the two phases of operation
Sharing the operation's statistics, KP's top cop said that during the first phase, militants were denied safe heavens under the new Tenant Information Form (TIF) and a total number of 4,413 First Information Reports (FIRs) were registered against landlords while 756 FIRs were lodged against hotels for non-submission of the form.
Separately, 348 FIRs were also lodged in the 'Action against fake National Identity Cards (NICs)' while 536 individuals were arrested.
A total of 13,929 illegal migrants were taken into custody while almost 6,712 cases were registered in this regard.
During the first phase, action was taken against those involved in hate speech and distribution of divisive material with 147 individuals taken into custody, while 812 cases of confiscating such material were also recorded.
Durrani added that, when compared to other provinces, the ratio of hate speech and related material is quite low in KP.
Sharing the document from the second phase, the IGP maintained that during the 'Search and Strike Operations', 38,113 suspects were detained while 10,512 firearms were confiscated and almost 340kg of explosive was seized.
The KP police also established 35,042 road blocks for snap checking and during the exercise 69,783 suspects were detained along with 5,409 arms and 174,863 rounds of different caliber were confiscated.
Around 5 kilograms of explosive material was also seized during snap checking.
At least 361 militants were challaned during the second phase.
Interestingly, not a single case of extra judicial killing has been reported throughout the province during the operation to implement NAP.
Related 15 committees tasked with implementation of National Action Plan