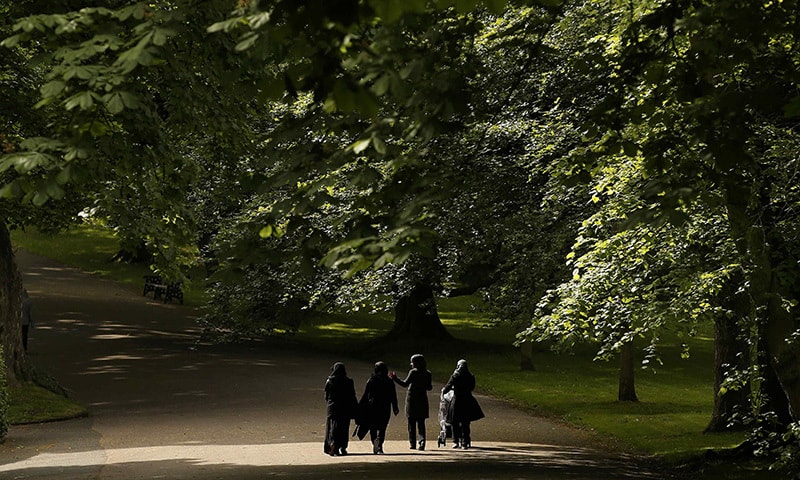 BRADFORD: Zahoor Ahmed shakes his head in disbelief as he surveys the back of a terraced house belonging to the family of the three Dawood sisters, believed to have travelled to Syria to join the self-styled Islamic State (IS) militants and brought their nine children with them.
"Why would you go to Syria? I don't understand it," said Ahmed, 52, wearing traditional Muslim attire as he surveyed the unremarkable street in the northern English city of Bradford, where he said he had never encountered extremism.
He is far from the only person in Bradford bewildered by the apparent decision of Sugra, Zohra and Khadija Dawood to journey to Syria with their children, the youngest aged just three, and leave their husbands behind.
The case came to light just two days after reports that Talha Asmal, a 17-year-old from Dewsbury just a few miles from Bradford, had carried out an Islamic State attack in Iraq, becoming what is believed to be Britain's youngest suicide bomber.
Both incidents have provoked soul searching among British Muslims at a time when the government is proposing new laws to give the authorities greater powers to fight radicalisation and potentially shut down mosques linked to extremists.
The authorities say more than 700 Britons —men and women, some teenagers, some well-educated— have been lured to fight in Syria and Iraq, most to join the group Islamic State.
Those who make the journey are putting not only their lives at risk but contributing to "one of the biggest threats our world has faced," Prime Minister David Cameron said in a speech on Friday to a security conference in Slovakia.
Cameron's emphasis is on persuading Britain's 2.8 million Muslims to do more to fight radicalism within their own community. Too many people are expressing the same "evil" ideology as Islamic State, even if they do not advocate violence, he said.
"This paves the way for young people to turn simmering prejudice into murderous intent; to go from listening to firebrand preachers online to boarding a plane to Istanbul and travelling onward to join the jihadis." He plans new laws to ramp up powers to ban "extremist" groups, close mosques where radicals thrive and censor media to restrict broadcasts that encourage extremism.
But some British Muslims say such measures are counter-productive, increasing the feeling of isolation that fuels radicalism. The state needs to work with Muslims, not demonise them, said Bana Gora, founding member of Bradford's Muslim Women's Council.
"This onslaught of counter terrorism legislation that's coming through is not going to help matters," she said.
If the government takes on "powers to shut down mosques at their pleasure, how is that going to help build relationships between the Muslim community and the state?" she said.
Bana Gora, founding member of the Muslim Women's Council poses for a photograph following an interview with Reuters in Bradford, Britain, June 18, 2015. —Reuters
'Ice cream lady in a burqa'
Stories of recruits travelling to Iraq and Syria open politically sensitive questions about whether Britain is doing enough to integrate minorities, especially in poor northern cities with a history of racial strife.
Nearly a quarter of Bradford's estimated 526,400 population are Muslim and the area has England's largest proportion of people of Pakistani heritage. Like many northern towns and cities it has struggled economically in recent years with the unemployment rate above the regional and national average.
Parts of Bradford were torched in race riots between whites and people of Asian descent in 2001, although today most people who live there say it is a friendly city and communities get along well.
The Dawoods' neighbourhood is typical: working class and ethnically-mixed, where women in veils are as common as white men in England soccer shirts, and churches and mosques operate cheek by jowl.
Unlike officially secular France, Britain has no policies against religious dress in public places. The government pays for pupils to study full-time at Muslim faith-run schools, just as Catholic and Protestant schools receive state funding.
Secularist critics say such "multi-cultural" policies can encourage segregation, isolating minorities while provoking resentment and political backlash among some whites.
After Asmal's reported suicide attack, the stridently right-wing Daily Mail tabloid labelled his home town Dewsbury "The breeding ground for jihadis where even the ice cream lady wears a burqa". It printed a photo of a woman hidden behind a black full-face veil, selling ice cream from the window of a van with a picture of Mickey Mouse.
Isolated
The three sisters, aged between 30 and 34 had been with their children on pilgrimage in Saudi Arabia but failed to return home eight days ago.
British authorities believe they have joined one of their brothers fighting alongside Islamic State militants who control parts of Syria and Iraq. Britain is participating in a US-led air campaign targeting the group.
"We do not support the actions of the sisters leaving their husbands and families in the UK and of taking their children into a war zone where life is not safe to join any group," their family said in a statement on Thursday.
The Institute for Strategic Dialogue, a UK-based think tank that promotes an anti-extremism message, said women were being drawn to the conflict zone not because they wanted to become "Jihadi brides" of fighters on the front lines, but because they felt culturally and socially isolated, believed Muslims were being persecuted, and were attracted by Islamic ideals.
Bradford cafe owner Aziz Ahmed, 56, said British Muslims recognised the problem of radicalisation and were working hard to confront it.
"We have been talking in the mosques: Who are these people that actually brainwash these people? And it certainly isn't the mosques," Bradford cafe owner Aziz Ahmed, 56, told Reuters.
"It's disturbing, because we've got young family of our own. We have to keep an eye on them, who they are associating with. At one time we were worried about lads on the street corner selling drugs. Now this is a bigger shock. Where does it end?"
Coffee shop owner Aziz Ahmed poses for a photograph following an interview with Reuters in Bradford, Britain, June 18, 2015. —Reuters