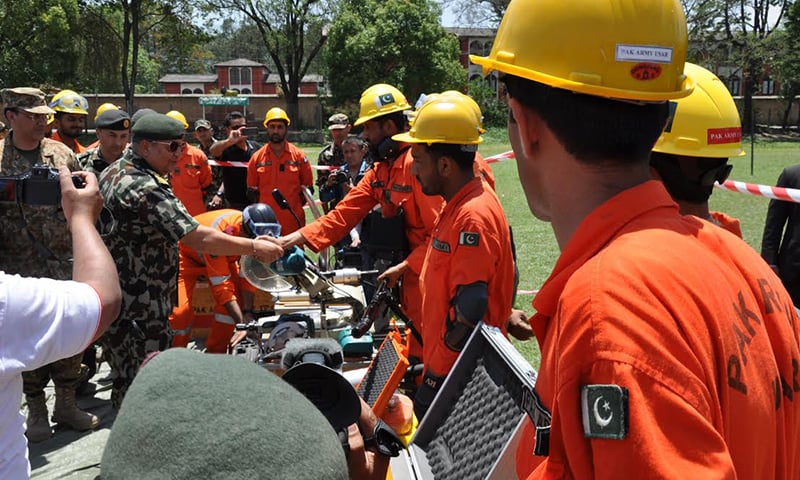 RAWALPINDI: Nepal Army Chief, General Gaurav SJB Rana expressed his gratitude for the support extended by Pakistan through the Pakistan Army in the aftermath of a devastating earthquake in Nepal that has claimed thousands of lives.
The Pakistan Army's earthquake relief efforts were praised by General Rana during a visit to the Pakistan Army field hospital on Sunday.
General Rana said Pakistan would be remembered by the people of Kathmandu because they provided medical care and supplies to affectees around the clock.
The hospital, which is set up in Bhaktapur, is the main source of medical aid for affectees.
The army chief also met Pakistani relief workers and appreciated their help in providing relief to victims of the earthquake which hit Nepal on April 25.
Read more: Death toll reaches 6,621 as Nepal rules out finding more quake survivors
A Pakistan Army urban search and rescue team was also involved in conducting rescue operations day and night.
Last week, Under-Secretary-General Humanitarian Affairs and Emergency Relief Coordinator Valerie Amos and European Commission Humanitarian Aid and Crisis Management Christos Stylianides visited the Bhaktapur Pakistan Army field hospital and praised the field camp, and the army's rescue and relief efforts by army personnel.
One week on from Nepal's deadliest quake in over 80 years, hope of finding any more survivors has diminished. Over 6,621 were killed and 14,023 injured in the 7.9 magnitude earthquake.
While multiple teams of rescuers from more than 20 countries have been using sniffer dogs and heat-seeking equipment to find survivors in the rubble, no one has been pulled alive since Thursday evening.
Explore: Nepal: Picking up the pieces