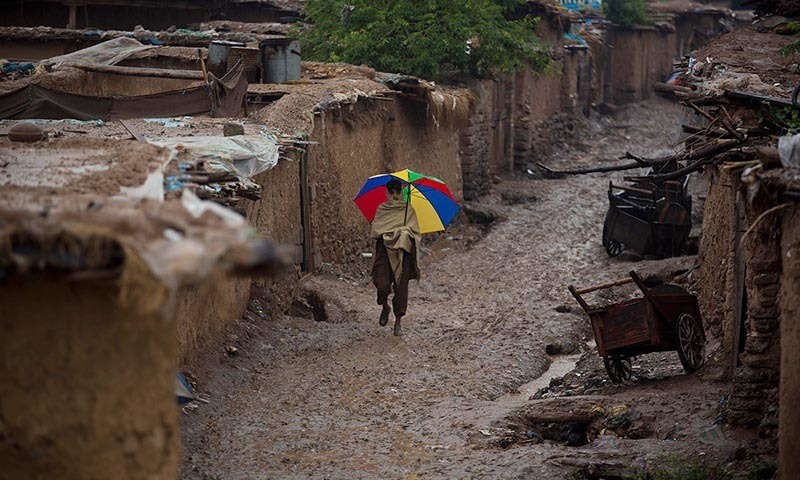 PESHAWAR: A report compiled by the Repatriation Cell of the Commissionerate of Afghan Refugees (CAR) suggests that there are 639,073 registered refugees — 114,096 families — living in refugee camps across the province.
A copy of the report obtained by DawnNews states that a total of 70 cluster camps operate under 29 administration camps in the 15 KP districts. With 19 cluster camps in total, Peshawar houses the largest number of refugees at 195,052 followed by Haripur and Nowshera, home to 84,485 and 71,148 refugees respectively.
The report, however, does not contain statistics of unregistered Afghan refugees, continuing the decades long government apathy towards the refugee problem in Pakistan.
Refugees from Afghanistan first started migrating to Pakistan during the Russian invasion of Afghanistan in the late 1970s.
Now, according to UNHCR, the UN refugee agency, there are a total of 1.6 million registered Afghans in Pakistan, while Pakistani officials claim there are 2.7 million registered and illegal Afghans.
Registered Afghan refugees in Pakistan can obtain Proof of Registration (PoR) documentation. However, it is unlawful to issue a CNIC card to Afghan nationals without adequate documentation and procedure to acquire Pakistani nationality.
Also read: Four Nadra officials suspended for issuing CNIC to McCurry's 'Afghan Girl'
As a response to the implementation of the National Action Plan, 3,416 Afghan refugees have been deported including 2,844 from KP, 195 from Balochistan, one in Islamabad and 376 from FATA.
Mirwais Gul, an Afghan citizen living in Pakistan says "This card has become very important now," he says. "Police raided our basti about a week ago and took away all Afghans whose cards had expired or who had no proof of being registered Afghan citizens."
He went on to say "people are fearful of raids here as those detained are kept in prison for two to three days. Although they are usually released soon after interrogation, their families are left concerned."
Also read: Afghan refugees won't be harassed, PTI assures envoy