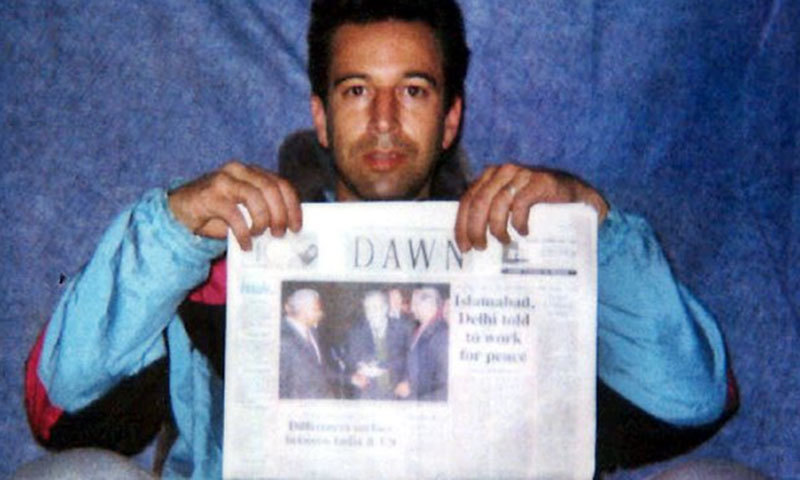 HYDERABAD: An anti-terrorist court (ATC) in Hyderabad on Thursday evening acquitted Qari Hashim, a co-accused in the kidnapping and murder of US journalist Daniel Pearl, for lack of evidence during an inside jail trial.
Hashim was arrested in August 2005 in conjunction with the kidnapping and was locked up in Hyderabad's central prison.
Defence counsel Sher Mohammad Leghari had filed an acquittal plea under Section 265-K of the Criminal Procedure Code, arguing that there was no evidence against his client.
According to Leghari, Hashim had been apprehended for arranging a meeting for Daniel Pearl with Mubarak Ali Shah Gillani. The court acquitted the accused for lack of evidence.
Later in the evening, a younger brother of Hashim, Syed Khalid Imran, told journalists at the Hyderabad Press Club that his brother had not yet been released by prison authorities despite his acquittal in the murder case.
Imran, fearing that his brother may be implicated by authorities in some false cases, said that the family will approach their counsel again to pursue the matter legally.
Also read: Daniel Pearl murder convict attempts suicide in Pakistan
Pearl was working for the Wall Street Journal when he was kidnapped and beheaded in Pakistan in 2002.
He went missing in Jan 2002 in Karachi and a month later the government announced that he had been killed after receiving and examining a videotape containing scenes of his beheading.
In May 2002, a decapitated body was recovered from a shallow grave and after a DNA test, the government announced that the body was of Pearl. However, the announcement was made shortly after the July 15, 2002 verdict against prime accused Ahmed Omar Seed Shaikh.
Omar Shaikh, co-accused Fahad Nasim, Sheikh Adil and Syed Salman Saqib faced an inside trial held in central prison Hyderabad in 2002.
ATC judge Syed Ali Ashraf Shah had awarded the death sentence to Omar Shaikh and life imprisonment to the co-accused. They have filed an appeal before the Sindh High Court whereas the Sindh government has filed an appeal for enhancement of the sentences awarded to the co-accused.
Omar Sheikh and the co-accused were kept in Karachi central prison and then were transferred due to security reasons to the colonial era Hyderabad central prison in May 2002.
More on this: Key suspect in Daniel Pearl case dies