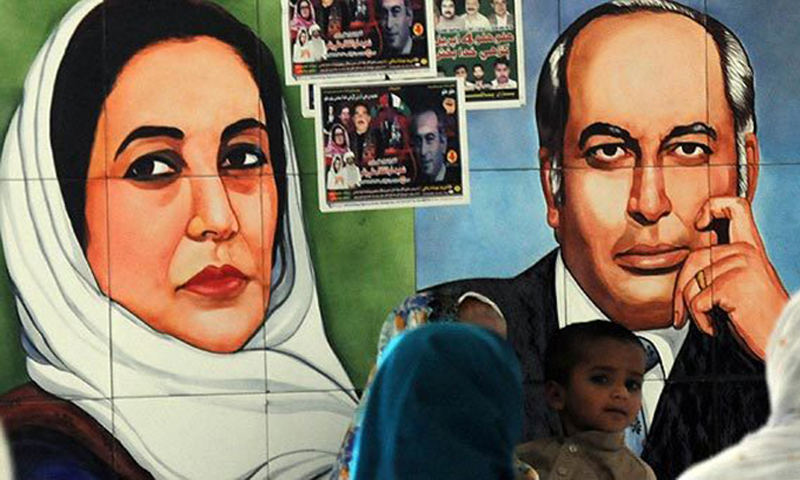 The recent call made by Bilawal Bhutto Zardari to reinvigorate the party and address concerns of disgruntled PPP workers, took me back to early 1985, when in Lahore, I witnessed an MRD (Movement for Restoration of Democracy) demonstration.
That day, at least two young men were shot dead and over 20 injured by Police and Rangers. Most of them were from Baghbanpura, which, together with Dharampura, Mughalpura and adjoining working class localities of Lahore, was known as the "Larkana of Lahore".
It was part of NA-59, the constituency of PPP founding member Dr Mubashir Hasan, who used to draw in thousands in crowds. The vast numbers of people impressed by his ideology, intent and integrity transformed the entire area into a PPP fortress, and Hasan won there by the highest margin for any winning candidate in Punjab.
Also read: Parliament Watch: Murky politics hang over Bilawal's entry into arena
Those were not the days of 24/7 television but the days of journalists dodging military censors to tell the truth.
Most of the young men who were killed were part of the group tasked with trying to release any protestors that had been arrested. One group drew police fire (live bullets) while the other group would physically assault the police before those caught could be taken out from the waiting vans.
The leaders had mostly gone underground to avoid arrest, but with the PPP tricolor in their arms and Jiye Bhutto on their lips, these resolute young men continued to challenge the dictator's authorities.
The funeral of one of the men killed was held the same day late at night; as kerosene gas lamps lit up the night, there were hardly any leaders present, only workers and family.
The father of the killed worker looked as if he had aged 25 years in five hours but still held his head high, as he acknowledged condolences with dignity and composure.
There was no pathos, a debt was owed to ZAB in blood, a debt was paid to ZAB in blood — end of story.
The PPP tricolour laid over the white kaffan was removed just before the body was lowered into the grave.
Take a look: Intra-party polls to remove unrest among PPP workers
Usman Ghani was 19 in 1984 when he was hanged in Kot Lakpat jail. Sentenced to death by a military court, Ghani became a chain smoker in prison and it is said that in his last meeting he gave his family a necklace of K2 cigarette packs saying that other than his life, this was all that he could give to the party.
The same rope was also used to hang Idrees Toti, 21, accused of the same crime — shouting Jiye Bhutto literally till their last breath.
Ghani and Toti were both from the "Larkana of Lahore".
This is no longer the case and PML-N is now the dominant party, with PPP standing third or fourth in the ranking.
My research, summarised in the table below, shows voting patterns in the Mughalpura constituency since 1970. Due to boundary changes the constituency's size was reduced and localities changed, but it still confirms erosion of PPP's vote bank.
Voting patterns in Mughalpura constituency from 1970 to 2013 — data from ecp.gov.pk.
This, in many ways reflects the voting patterns in Lahore city itself (see table below), where PPP's share of votes has been eroded to a large extent. In fact, excluding Samina Ghurki's NA-130 constituency, the average vote count for the party would be just over 5,000 per constituency or three per cent of total votes cast.
PPP election performance in all Lahore constituencies from 1970 to 2013 — data from ecp.gov.pk.
Even in 1997 – generally acknowledged as the most rigged election in recent memory – PPP was runner-up in all the constituencies contested in Lahore. By contrast, in the 2013 elections, it was runner-up in only one constituency, and that too of a sitting MNA when the party was in government.
Read on: PPP to file pleas against NA, PAs' speakers
PPP's overall performance in Punjab (including Islamabad) is pretty much the same, which means a very poor performance in over 55 per cent of all national assembly seats in Pakistan.
Until recently, PPP was the winner or runner-up in approximately 60 per cent of these, but it has now fallen to less than 20 per cent, even though in 2013 it had 44 sitting MNAs who apparently spent a good amount of development funds in their constituencies to improve their standing amongst voters.
Seats in which PPP/PDA won or were runners-up in, for Punjab and Islamabad from 1970 to 2013 — data from ecp.gov.pk.
So how does a party that was so popular disintegrate so quickly and so abysmally?
The Herald magazine survey of March 2014 put PPP's projected vote share in Punjab at 5%.
I put this question to some residents of that area including Arshad, a former PPP activist who had been sentenced to death by a military court and spent ten years in jail during the Zia era. The answer was:
"We never betrayed PPP. This area sent more workers to prison and buried more workers than any other part of Lahore, but it was Larkana that betrayed us".
Whilst PPP went about with its questionable performance, the workers were rewarded for their sacrifice with the appointment of Manzoor Wattoo.
Also see: Ex-MNA's move to join PTI sends alarm bells ringing in PPP
PPP Punjab (with the exception of a few pockets) is a setting sun. Bereft of ideology, it is on life support, living only on its legacy.
The head of PPP Punjab is the former Zia supporter, Watto, who at the time when these young men were suffering all kinds of hardships, was handpicked by Zia to become Speaker of Punjab Assembly under then chief minister Nawaz Sharif.
In its current state, Pakistan People's Party would be better off to withdraw to its hinterland of rural Sindh strategically, and focus on governance and delivery there and addressing people's needs.
Maybe in 10-12 years' time, they can emerge once again on the national stage; because if the PPP brand in Punjab is further damaged now, the ramifications could be terminal.