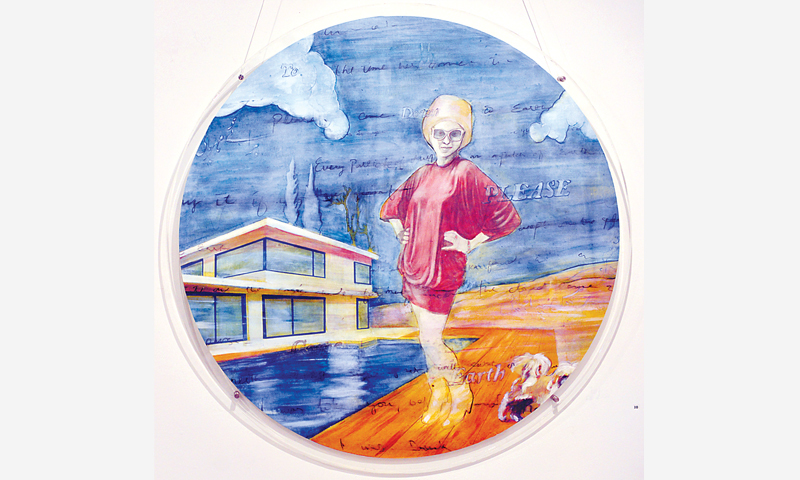 An exhibition of artwork by five young artists, Kiran Saleem, Sehr Jalil, Suleman Aqeel Khilji, Ghulam Mohammad and Julius John Alam, curated by Amna Hussain was mounted at the Canvas Gallery, Karachi, titled "Four and Other Elements" recently. There one discovered a series of narratives that captured the imagination of a receptive audience.
Entering the gallery, one's emotions were totally captured by the installation by Alam who had spread an extensive 'sea' of black PVC covering a screen and swirling across the floor as the background for myriad white paper boats. These were angled in such a way that they seemed to be moving and at a first glance tugged at the heart strings as symbols of childhood fun times spent with siblings. Yet the sea was not a 'sunny day blue' but deep black that brought one back to the present with a jolt.
About his work the artist quoted the moving words of Rabindranath Tagore as his inspiration "… and darkness came over the land until three in the afternoon, for the sun stopped shining …", and it also reminds one of Alam's previous exhibition. The artist has shown his work previously in Lahore and Dubai. Now enrolled for masters at Parsons New School of Design, US, it seems we shall have to wait patiently for further exhibitions of this very interesting artist.
---
Five young artists' artworks have captured the imagination of the viewers
---
Jalil's 10ft x 10ft mixed media installation with a folding screen was untitled, yet it appeared to carry a very personal theme of divergence, involving the drama of the link between the spectator and the narrative. The artist portrayed the elements, air, water, fire and earth, in freely worked strokes and styles and one discovered portraits and numerous objects. This was an artwork to live with, to view daily and discover something new. Jalil contributed four vibrant paintings to the show, each raising questions and worked in a combination of drawing, painting, collage and printmaking.
One day, Sehr Jalil
Two paintings by Khilji worked in gouache and water colour pencils on acrylic were titled 'On the way'. They offered the subtle complexity of displacement; shifting homes, shifting towns, a timeless yet contemporary ongoing experience. Khilji's ability to capture light and movement, and the confident use of colours are engaging and viewing this series, one feels that one is watching the world go by from the window of a moving vehicle.
Khilji also exhibited two circular mixed media paintings titled 'Bubble'. Here he had taken two subjects and painted them in their dream existence, the male clothed in a leather suit in the fashion of the '70s, dark glasses, mountains in the background and a white sports car. His woman companion was fashionably dressed and bejewelled, standing beside a swimming pool with a small, fluffy dog as an accessory. The artist explains that there is a period in life (such as his years at the National college of Arts, NCA) when one lives in a beautiful bubble that is actually a dream.
Day by day I float my paper boats one by one down the running stream ... , Julius Johan Alam
Saleem, the recipient of an award from Alhamra last year states, "I intend to explore the fine lines between illusion, disillusion and hallucination." Her intriguing untitled work on show included a pair of perfectly sculpted ears jutting out of a white block, as well as the exquisite oil on canvas painting that appeared to offer changing shapes of skies and clouds; perhaps a distant vista on the horizon in changing shades of pinks and greys that invited numerous interpretations.
One marvelled at the barbed wire stretched across paper that was composed of minute strokes in a piece titled 'Barrier' by the versatile artist Mohammad. The artist has also contributed a miniature art piece densely worked and layered with a three-dimensional aegis that one is trying to decipher the exquisite words contained and can be best explained by the artist's words, "The discovery of language by freeing it from the page where it is composed and recomposed enriches it with not just 'meaning' but also an aesthetic reading."
Published in Dawn, Sunday Magazine, September 14th, 2014