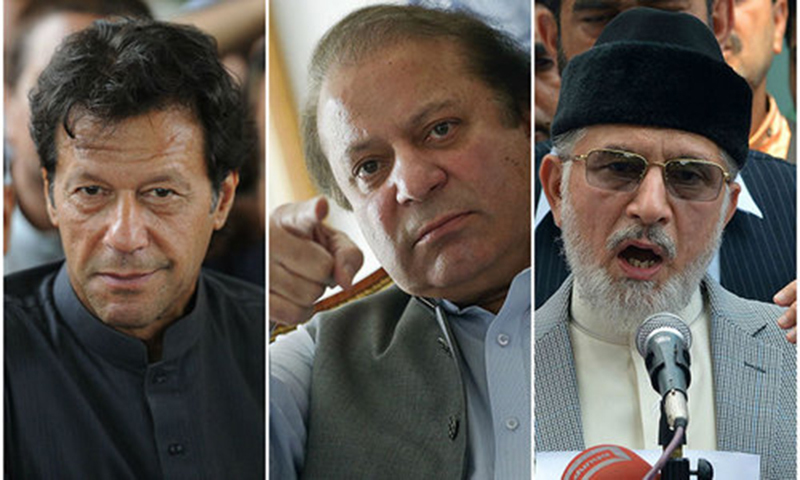 MUCH as Imran Khan, Tahirul Qadri and their respective protesters gathered in the heart of Islamabad would like to pretend otherwise, it is not just the PML-N government that is in the metaphorical firing line but the democratic system itself that is on trial. And, with the street protest against the government entering its third week, the pressure on the system has grown.
Quite how much that pressure has grown in recent days was in evidence on Tuesday as the Prime Minister's Office issued an extraordinary statement after a meeting between Nawaz Sharif and army chief Gen Raheel Sharif. In the press release issued by the Prime Minister Office, there is not just an explicit mention that matters of high politics were discussed between the highest-ranking civilian and the most powerful military leader on matters concerning politics but that, rather extraordinarily, the two men are in agreement that the political impasse should be resolved expeditiously.
The benefit that Mr Sharif and the PML-N would have hoped to gain from such a statement is fairly obvious: the federal government is trying to show that the army leadership and the PML-N are still working together and in agreement on the way out of the crisis.
Essentially, the PML-N's posturing is meant to signal to the protesters and their leaders that the military is on the government's side, not the protesters'. In truth, however, the PML-N's posturing only reveals its own uneasiness – and perhaps even uncertainty – about what may happen if push comes to shove. In truth, there are enough tensions on policy matters between the PML-N government and the military to leave a lingering question mark over whether the army leadership may prefer a different political dispensation in the country.
In truth, there are no guarantees in politics.
For the PML-N, the pressure is coming from many directions. The PTI has floated the idea of a so-called in-house change in parliament; the MQM has talked of a possible sacrifice being made; the PML-Q leadership has tried to sow fear by ominously reminding the political class of how political crises have led to military interventions in Thailand and Egypt; and even the ANP has talked of being committed to the democratic process but not necessarily the prime ministership of Mr Sharif.
Meanwhile, protesters continued to occupy Constitution Avenue yesterday despite the Supreme Court suggesting that they needed to move. Amidst all of this, Prime Minister Sharif has unhappily returned to his approach of being seen sometimes and heard rarely. Mr Sharif ought to speak to the public and put in perspective what this protracted crisis is about and the kind of pressures his government is under.
In May 2013, Pakistanis in unprecedented numbers showed their preference for a democratic system. That same public could be Mr Sharif's strongest ally — if he takes them into confidence.
Published in Dawn, August 27th, 2014