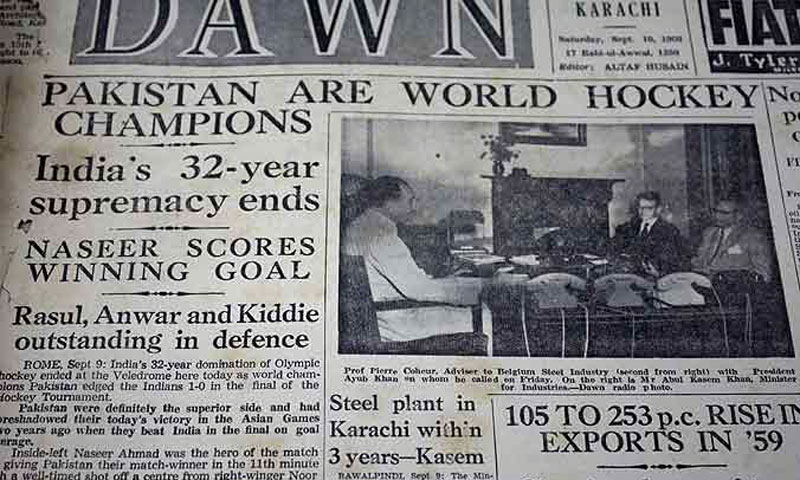 The scenes that transpired at Sydney's Homebush Stadium, 19 years ago, will forever remain etched in the memory of those Pakistanis who saw it live on television. The booming voice of (late) Farooq Mazhar; the minute by minute low-down on the thrilling penalty shoot-out; the nervous Dutch youngster Jeroen Delmee's decisive push; the agile Mansoor Ahmed with his brilliant save and the subsequent celebration by the team — all of it remains part of our hockey folklore. The title won was Pakistan's fourth World Cup victory.
This was an outstanding feat given that there had been only eight editions of the event until then. Only months earlier, Pakistan had won the Hockey Champions Trophy, the most prestigious tournament in international field hockey's annual calendar at the time.
That World Cup victory was the last time the green shirts managed to win any of the big three global competitions (the World Cup, the Summer Olympics and the Champions Trophy). Between 1990 and the end of 1994, Pakistan hockey was, indeed, riding a wave of success comparable to its golden era in the late 1970s and early 1980s. Within those five years, Pakistan managed eight podium finishes – securing an impressive collection of three gold medals, two silver medals and three bronze medals – in two World Cups, five Champions Trophy tournaments, two Asian Games and one Olympic games.
The ensuing years saw the performance of the national team gradually plummet. The team often failed to qualify for the last four slots in a major tournament. The last big win Pakistan had was at the Guangzhou Asian Games, in 2010. The mother of all disappointments, though, was the inability of the national side to qualify for the World Cup in 2014, despite getting multiple opportunities to do so. A hockey World Cup without Pakistan is akin to having a football World Cup without Brazil — at least for local fans.
Not that the Pakistani team was a serious contender for winning the upcoming World Cup. In 2010, our boys stood last in the competition, their worst finish in World Cup history, earning them the ignominious wooden spoon. And, as of November 2013, they are ranked nine, according to the latest international rankings.
What caused such a drastic downfall? Why is Pakistan's national sport in such a shambles? Above all, can its lost glory be restored?
To begin the quest for answers, no place in the country is better suited than Gojra. This little central Punjab city, an hour's drive from Faisalabad, is often known in modern memory for the anti-Christian riots that wracked it in 2009. But its original claim to fame is its unmatched capacity to produce world-class hockey players. Despite a small population of just about 300,000 souls, Gojra has given Pakistan more than 100 international players in the last 67 years. Many of them went on to become superstars.
Iqbal Bali, a former Olympian, a retired international hockey umpire and a Gojra native, says the decline of the game at the national level has coincided with a lack of interest in it, at school and college levels. "To sustain the game, we need a competitive club hockey structure. And for that, the pool of players has to come from schools and colleges. If they don't provide raw talent, there will be no rough diamonds available for coaches to polish," he says.
An imposing presence, 67-year-old Bali has been involved with the game for more than four decades. A member of the team that played in the 1972 Munich Olympics, he went on to become an umpire, officiating at many international events. The Barcelona Olympics, in 1992, was his last event as an umpire. Since then, he has dedicated himself to coaching emerging talent in his hometown at the Gojra Hockey Club, which he owns.
Bali gives a number of reasons why young boys aren't finding it easy to take up the game at schools.
"Equipment has become very expensive and educational institutions don't have enough funds to allocate for sports," he says.
"A single hockey stick made of fibre can cost anywhere between 8,000 rupees to 10,000 rupees. A goalkeeper's equipment can cost more than 100,000 rupees. Unless someone provides funds and incentives, educational institutions will never invest in hockey."
Shahnaz Sheikh, a former Olympian, believes that the separation of the sports ministry from the education ministry in the mid-1980s is a major reason why schools failed to maintain their interest in sports.
"Funds allocated for sports were no longer available to schools, automatically," he says.
The other related development, according to him, was the mushrooming of schools that did not have any playgrounds.
"Schools built on one-kanal [605 square yards] plots have led to the ruin of sports at the grass roots level," he tells the Herald.
How does Gojra, then, continue to be the nursery for the next generation of hockey players for Pakistan? "It offers them a glimpse of a secure future," Bali says, walking along the grassy field his club maintains at the Government Postgraduate College, Gojra.
"People here believe hockey is their ticket to a better life. They don't necessarily look at it from a sporting point of view."
Bali says Gojra has always been a hub of national-level competitions, which helps increase the quality of local players. These tournaments also give players an opportunity to impress the managements of teams owned by government departments, banks and other corporations. Those who get a chance to enter these teams, secure a sustained livelihood as well as a chance to play for the national team. "Parents ask us to train their child enough for them to be employed at an organisation. Their aspiration is to have a breadwinner in the family, not a medal-winner," he says.
Moreover, hockey in Gojra is a community-based project. Numerous former players in the city have voluntarily taken up the responsibility of training the next generation of players. With two major clubs in the city, youngsters flock to the grounds every evening for training under the watchful eyes of former stars. Even the equipment that the trainees use is often donated by ex-players. On many occasions, the seniors pool in money to purchase new equipment for the juniors. The grass field, where Bali's boys practice, is maintained with private donations.
The government does almost nothing to endorse the sport. The Punjab Sports Board owns an AstroTurf ground in the city but it is in very poor condition. The turf, in fact, passed its expiry date five years ago. With such scarce official investment in the game, it is difficult to see how long Gojra will continue its glorious hockey tradition.
Based in Faisalabad, Rao Saleem Nazim, a former Olympian and a member of the 1976 Montreal Olympics hockey squad, is scathing in his criticism of the Pakistan Hockey Federation (PHF) — especially its decision to open 18 regional academies in different cities. "The PHF wasted an incredible amount of resources building and promoting these academies. It has been four years since these went into operation but show me one player today who trained there and made it to the national team," says Nazim.
The academies, launched in 2009, engage PHF certified coaches to train players in different age groups. The idea is to develop a pool of players – from among trainees at the regional academies – for training at the national academy in Lahore. The national academy, in turn, is tasked with building players for the national squad. The project, however, lacks funding and accusation of nepotism and politicisation swirl around it. Rana Mujahid, the recently elected PHF general secretary and a former coordinator of the academies, admits that the whole idea requires revision. "We are considering a review of academies. The stakeholders will thoroughly discuss how to improve them," he tells the Herald.
Others think that the idea is altogether flawed and needs scrapping. "This is not how academies work. They should be meant for fine-tuning players, not finding them. Players can only be found if you have a robust grass-roots system that promotes players at schools, colleges and clubs," says Nazim.
Citing the example of Holland and Germany, he says the European nations have improved their game through a strong club system and domestic tournaments all year round. "They spot players who have talent for playing at the national level from these intensely competitive tournaments and send them to their central academies for advance training."
Nazim is also critical of the way coaches are appointed at the academies. They have to be qualified enough to be able to spot talent at a young age and groom that talent according to modern requirements, he says. "Instead, we have political appointees at the academies with no experience of playing international hockey or of coaching."
Although Nazim emphasises that evolving rules and tech-heavy equipment have had no significant bearing on Pakistan hockey's fortunes, he does insist that younger players need to play on synthetic turfs rather than on grass. "When young players start playing, they develop their technique running on grass which is easier to do than running on turf. Physical fitness is of utmost importance to be able to play on turf — which, unfortunately, is not our strong point," he says.
Tahir Zaman, one of the greats of Pakistan hockey and currently the head coach of the national team, agrees. "When we were at our peak during the early 1990s, the game was evolving by the day but we failed to adapt to modernisation due to hubris and lack of foresight," he tells the Herald.
An attacking midfielder in his heyday, Zaman quit hockey after the Sydney Olympics in 2000. Since then he has become an international coach and has served stints with the hockey squads of Azerbaijan and Egypt. In 2011, the PHF hired him as a consultant for the national team. "Technological advances in the game didn't harm our progress," he says, "Our inability to adapt did."
Zaman says the game oversaw technical changes in coaching methods and in players' training in the mid-1990s but Pakistan continued to rest on its laurels. "The Europeans observed our game, adopted the skills-first nature of Asian-style hockey while marrying it with the efficiency and disciplined nature of the European style; thus, creating the concept of 'Total Hockey', similar to what Dutch football coach Rinus Michels invented for football," says Zaman. In Total Hockey, "every single player can perform attacking and defending skills, equally."
It is amazing how far Pakistan has fallen behind in the race to catch up with innovations in the game. Back in 1978, when Pakistan went to Argentina to play in the World Cup, our boys annihilated every single one of their opponents. Not only did they maintain a 100-per-cent winning record, they also scored 35 goals while only four were scored against them. Among the admirers of the green shirts was Argentine football manager, Cesar Luis Menotti, whose team was bidding to win the football World Cup on its home soil. Menotti sought out Pakistan manager, Abdul Waheed Khan, to laud his team's game play as well as to discuss tactics and strategy. Two months later, Argentina won the football world cup for the first time in history. Menotti did not forget to send a telegram of appreciation to the Pakistani manager for the advice he received.
Zaman highlights the importance of a 360-degree programme to overhaul the structure of Pakistan hockey. His ideas involve dedicated development of coaches, creation of a coaching manual, changing players' attitude towards training and fitness, working towards consistency and, above all, having patience for changes to bear results. "We expect every new coach to bring with him a miracle medicine to cure the game of all the ills it suffers from. This will take time," he stresses.
The official managers of the game also talk about its development as enthusiastically as anybody but their standard gripe is that they never get the money they require for a turnaround. Mujahid harps on the same theme in his interview with the Herald but does not seem to have a well-defined strategy to put things right. He talks about the idea of introducing a hockey league, like India does and to increase the number of domestic tournaments to "allow quantity to build, followed by quality." He, then, moves on to another idea — of separating team management from the administration of the game. "We have had cases in past where PHF officials were also part of the team management. This will not happen again," he says, but does not specify how it has hurt the game.
Hockey players have a litany of complaints of their own. Most of them don't look happy or optimistic about their personal fortunes as well as those of the national side. In conversations with the Herald, they hold lack of incentives, insecurity, lack of respect and mismanagement as the main causes of the game's decline. Shakeel Abbasi, one of the few celebrated Pakistani players in the last decade, is a prime example of someone thwarted, more than once, by mismanagement. Now 30, Abbasi started playing hockey in 1997, representing Sandeman High School in Quetta. With the help of supportive parents, he was able to rise through the ranks and secure selection for the National Junior Training Camp by 1998. By the next four years, he made it to the senior camp and then to the national side.
In the last few years, Abbasi has been consistently ranked among the best players in the world. In 2004 and 2012, he was chosen as the player of the tournament in the Champions Trophy; in 2008 and 2009, he was selected in the International Hockey Federation's World XI. In his 10-year career at the national level, he has been banned from playing due to committing multiple breaches of discipline and was dropped from the team on three occasions. "I still don't know why. I was only told I was being given a rest," he tells the Herald.
In Abbasi's opinion, players only ask for respect and consistency in selection. "I have been playing for over 10 years and in those years Pakistan had a different squad for every tour. You cannot build a team like that. There has to be consistency in selection and there has to be a core group of players in each squad. Only then results will start coming."
Haseem Khan, a Karachi-based player and the nephew of Pakistan's former hockey great Hanif Khan, believes those aspiring to play hockey don't get the kind of support intending cricketers get. "I am lucky that I have a family that supports me and encourages me to pursue the sport along with my academics. Not everybody is that fortunate."
Due to lack of attraction in the game, Khan says, only few are playing hockey. "Look at cricket; it has a structure where people can choose to have careers as professional players even if they don't make it to the national team. It isn't like that in hockey," he says. "Unless players know that they have a sustainable future in the game, they will not be lured back."
Money in the sport, in fact, seems to squeeze rather than expand. Public-sector organisations, like the Water and Power Development Authority (Wapda) and Pakistan International Airlines (PIA) are facing financial crises and cannot afford to employ players as they could in the past. Others, like commercial banks, have started cost-cutting measures, with the axe often falling on the sports department. At the most, players are getting yearly contracts, not knowing what to do after these expire.
Imran Shah, the national team goalkeeper, was working at Habib Bank Limited when the bank disbanded its hockey team. He hasn't found a job yet. "With no financial support or a sustainable career path, why should I play hockey?" asks Khan.
There seems to be no ready answer. Pakistan hockey, in the meanwhile, continues to find itself trapped in a vicious circle — fewer quality players are leading to a decrease in ranking, while a slide in the national side's fortunes leads to money drying up for the game. Whatever happened in Sydney in December 1994 is a distant memory for the later generations — fading and impossible to repeat in the foreseeable future.