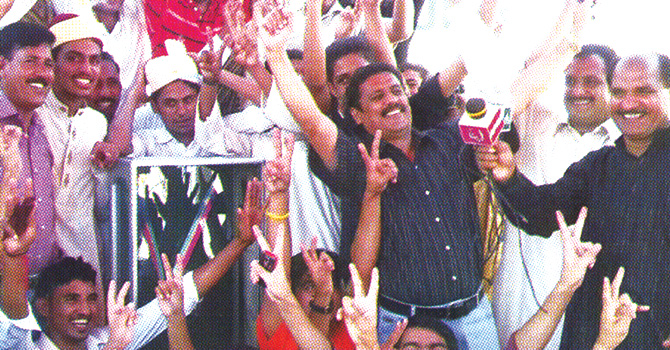 Celebrating the golden jubilee of the victory. -File photo
Olympian Rashid ul Hassan shares his memories of Pakistan's last Olympic hockey gold medal.
"It was 28 years ago but the memory of winning gold in the 1984 Los Angeles Olympics is still as fresh in my mind as if it were yesterday.
In captain Manzoor Jr, Hanif Khan, Hasan Sardar, Kaleemullah, Qasim Zia, Nasir and goalkeeper Moinuddin we had the cream of players in our side. And we were all going for the win," Olympian Rashid ul Hassan, the right-half in that squad shares his memory of Pakistan's last Olympics gold medal.
"Though it was a time when Pakistan hockey was at its peak, we were all even more charged because we had already missed the 1980 Moscow Olympics in protest of USSR's invasion of Afghanistan. And we weren't even sure if we would still be playing in the Seoul Olympics in 1988 so we made the 1984 edition our prime focus," he says.
With Rashid as the right-half, Pakistan's attack also included Naeem Akhtar as left-half and Ayaz Mahmood as centre-half.
"My older brother, right fullback Manzoor ul Hassan, and centre-half Akhtar Rasool had already retired while team captain Manzoor Jr and myself had been dropped a year before, after which Pakistan lost four consecutive matches to Australia not to mention the Champions Trophy in Karachi, the Hong Kong tournament and the Malaysia tournament in 1983," says Rashid.
"I had been told to play in the centre-half's position, something which I wasn't happy about at all as I felt that my right-half position made a fine combination with the others. So in 1983, I was recalled to camp and allowed to play in my old position by our coach Khawaja Zakauddin," he says.
"Manzoor Jr, too, was called back and even handed over the team captaincy," he adds. "And from there on we played as a unit."
According to the Olympian, the hunger to win was much stronger in the players of that time than it is now. "Back in our day, when a player realised his weakness on the field, he would work extra hard in order to improve himself. So other than the routine, coach Zaka and manager Brig Atif didn't have to say much to us as they already saw us pushing beyond our limits," Rashid explains.
"I remember being slower in speed. So my team-mate Kaleemullah and I worked extra hard to overcome that drawback. Running in from 25 yards again and again, I had told Kaleemullah to punch me hard if he reached the goal line before me, which he did," Rashid laughs at the memory. "Our repetitive drills improved my speed and that, too, in one-and-half to two months of camp. This is how we would improve ourselves individually. As they say, 'where there is will, there is a way'."
About training for the 1984 Olympics, Rashid says that it all started one year ahead of the big games. "It is not like it is now when some of the players don't even know if they are in the team or not until the last month with just one month remaining to the Olympics. We were all training together one year in advance, which helped the team gel well. The right trio of myself as the right-half, Manzoor Jr as the right-in and Kaleemullah as the right-out made a great combination. When your right attack is strong, the opposing team's defence falls on the wrong foot and that is exactly what happened.
"Then our goalkeeper Moinuddin, known for introducing the dash to the top of the 'D' to cover the opponents' angles during penalty-corners, was exceptional at blocking the other teams' penalty-corners. So you can imagine our attack and defence," he says.
"Reaching Los Angeles, we felt like we were still in Karachi, where our camp had been held. The afternoons were hot and evenings pleasant.
And with a 10-year career behind us, we were fit and confident for any challenge coming our way," he says.
"The rolling substitutions that one sees in field hockey today where a player can go out for a breather, and come back in later as well, was not part of the rules back then. If once a player came off the field during a match, he stayed out. And the rules allowed only three substitutions. That was also one of the reasons why a player paid special attention to his fitness, to not get tired easily and be called outside by his coach," Rashid points out.
"We had promised ourselves that we would not lose any of the preliminary matches in Los Angeles, and we managed to achieve that. With Holland we drew 2-2 and also pulled off a goalless draw with England making our goal average good enough to take us to the semi-finals.
Both Pakistan and Holland had managed seven points and 16 goals in Group 'B' but Pakistan had only conceded seven goals during the group stage whereas Holland had conceded nine. The goalless draw with Britain in their last group match had put Pakistan in the quandary and they had to wait till the evening to see the results of the Holland and Kenya match. Holland needed to beat Kenya by five goals to reach the last four but they scored only three goals in the second half to allow Pakistan the passage to step into the semi-finals with Australia.
"In the semi-finals we edged out Australia 1-0, which gave a big boost to our ego as we had been losing to them consistently, as mentioned earlier as well. In the final we met West Germany. The fulltime score was 1-1 and the match had to go into extra time of two seven-and-half-minute halves. The first half of extra time saw us scoring and getting ahead. The rest was taken care of by our defence for, though they tried as hard as they could West Germany wasn't able to equalise.
"Of course, I didn't score any goals as my main job was to create the opportunities for scoring goals for the forwards, which was how Hasan Sardar and Kaleemullah got us the goals in the final," says Rashid.
Pakistan's last gold in the Olympics still brings joy and is something to celebrate as the country is still without an Olympics hockey gold medal even after so many years. In 2009, Rashid ul Hasan held a big programme as a silver jubilee celebration of the medal in his home town Godhra. "My entire hockey academy in Godhra, the Rashid ul Hasan Academy, had a blast then," he says.
About the current team's potential in the upcoming Olympics, he says that it makes him sad to see so much bickering and quarrelling going on in Pakistan hockey now.
"The people seem to have forgotten how to keep a single aim of winning in view. You also can't have a winning combination when you keep changing the team only a month or two before any big assignment. That way you may be winning your personal interests but you can't have a winning combination," he regrets.
"Still Pakistan has plenty of talent in hockey and I still believe that there is a chance for the game to flourish if we have a good team to manage hockey affairs at the top," he concluded.