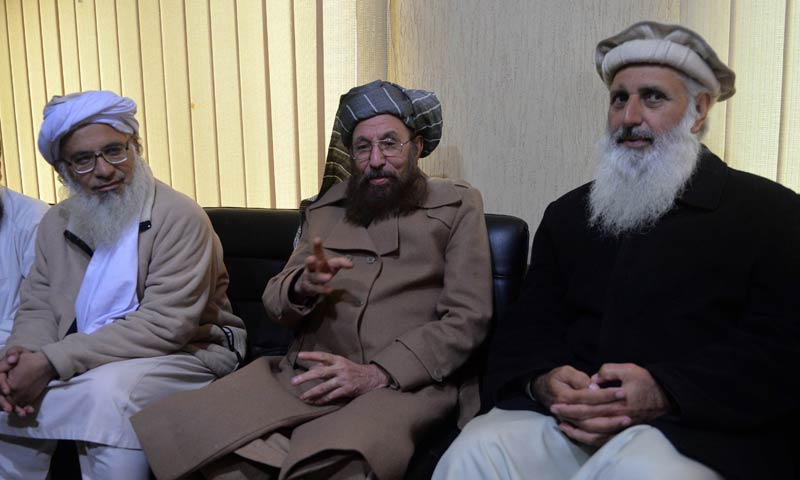 ISLAMABAD: Criticising the government's negotiators for their failure to meet with representatives of the Taliban committee today, Maulana Samiul Haq alleged that the government was not serious about holding peace talks and feared that a military operation seemed imminent from the present situation.
Addressing a press conference in the federal capital, he also alleged that the government was under pressure to not carry out peace talks with Taliban militants, adding that their negotiators had backed out at the eleventh hour.
He appealed to the Taliban to remain patient and refrain from any inflammatory reactions in response to the government's handling of affairs.
Earlier today, the committee representing the government for proposed peace talks with the Pakistani Taliban sought clarifications from the TTP committee on certain matters and excused itself from meeting with the negotiating team today.
Negotiators representing the two sides were scheduled to meet for preliminary peace talks in Islamabad at 2:00 pm to chart a "roadmap" for talks.
According to the state-run channel Pakistan Television (PTV), Irfan Siddiqui, convener of the four-member government committee, apprised member of the Taliban committee Maulana Samiul Haq of the decision to postpone the meeting and said a detailed statement in this regard would be issued any time today.
Moreover, the government's committee had separately held a meeting today to discuss the situation emerging after the announcement of the TTP committee and its two members dissociating themselves from it.
The government's committee comprises Irfan Siddiqui, Special Assistant to the prime minister on national affairs and member of the committee, Rustam Shah Mohmand, a former Pakistan ambassador to Afghanistan, Peshawar-based journalist Rahimullah Yousufzai and retired Major Amir Khan.
The meeting took place in the office of Irfan Siddiqui and discussed matters relating to the TTP committee.
It decided to ask the committee representing the TTP to provide clarifications on certain matters.
The committee first nominated by the TTP included the names of Pakistan Tehrik-i-Insaf (PTI) chief Imran Khan, Maulana Samiul Haq, chief cleric of the Lal Masjid in Islamabad Maulana Abdul Aziz, Professor Mohammad Ibrahim of the Jamaat-i-Islami (JI), and Mufti Kifayatullah, a former lawmaker of the Jamiat Ulema-i-Islam (JUI-F) from Mansehra. However, Imran Khan and Mufti Kifayatullah refused to become members of the TTP committee.
The two sides held separate meetings in Islamabad on Monday and later decided to talk each other on Tuesday, Professor Ibrahim had earlier told AFP.
"We will talk to the Taliban after meeting the government committee," he said. "Our first priority is peace. We will try to have a ceasefire first and then will try for a permanent peace."
In the past, the militants have called for their prisoners to be released and for Pakistani troops to be pulled out of the seven tribal areas along the Afghan border.