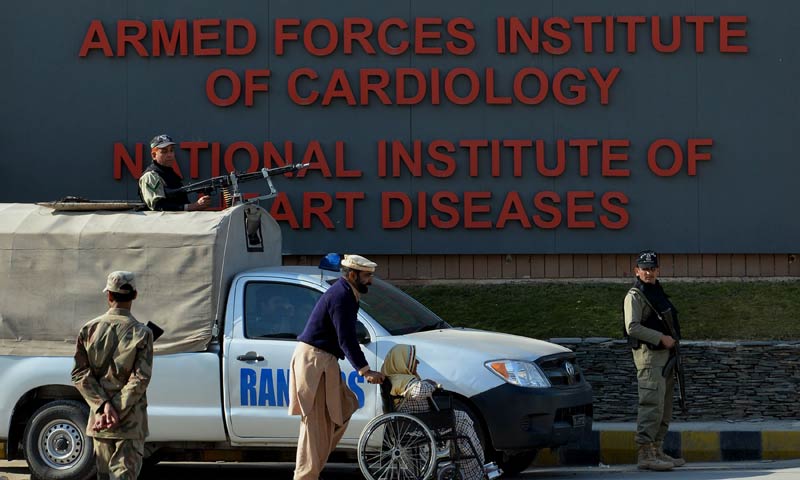 RAWALPINDI: The report on health condition of former president retired Gen Pervez Musharraf may not be presented to the special court on Tuesday because the Armed Forces Institute of Cardiology (AFIC) is reported to have sought help of specialists from the Combined Military Hospital (CMH) in Jhelum to finalise the report.
An official at the AFIC told Dawn that a seven-member medical board set up to examine the former military ruler had met a medical specialist from the CMH and discussed with him the "pathological tests of the patient".
"The specialist advised the medical board to conduct fresh pathological tests since he found no sign of cardiac problem." He also suggested tests for depression so that the report could be finalised and submitted to the court.
The official said Gen Musharraf was apparently in good health. He was allowed to take a walk early in the morning and late night in AFIC lawns with security provided by heavily armed army personnel.
While exempting Gen Musharraf from appearance on Monday, the special court had ordered the AFIC to submit the medical report on Tuesday.
The AFIC administration declined to say anything about the matter to media personnel. It only said that the medical report would be presented before the court and then it would be a public property.
Almost all TV channels have installed their DSNGs on The Mall because they are not allowed to enter the hospital premises for security reasons. Army personnel have cordoned off the area and patients are allowed only in the emergency department.
Leaders and workers of the APML — Musharraf's party — are also denied entry to the hospital. The AFIC administration did not allow APML spokesman Dr Amjad on Monday to see his 'ailing' party chief.
Talking to reporters, Dr Amjad said the former army chief could not be a traitor because he had defended the country and its people in difficult times. Musharraf's lawyer Ahmed Raza Kasuri told Dawn that he knew nothing about the medical report because the matter was between the doctors and the court. He was of the opinion that if doctors recommended that he be taken abroad the court would have to accept the advice. "The human life is important and the court gave such decisions in the past," he added.