July 18, 1918
Rolihlahla Mandela is born in Mvezo, a small village in the Transkei, a former British protectorate in the south. His father, Gadla Henry Mphakanyiswa, was a chief of the Thembu people, a subdivision of the Xhosa nation. He receives his English name, Nelson, from a teacher at age 7. During his life he is often referred to by his Xhosa clan name, Madiba, or as Tata which translates to 'Father'.
1938
Mandela enters the University of Fort Hare. Two years later, he is expelled for participating in a student strike and moves to Johannesburg to avoid an arranged marriage.
1941
Mandela completes work for his bachelors' degree by correspondence and studies law at the University of the Witwatersrand in Johannesburg.
1944
Mandela marries Evelyn Ntoko Mase. The couple go on to have four children, but because of his political activities, the marriage falls apart and they divorce in 1958.
That same year, Mandela, Oliver Tambo and Walter Sisulu help form the Youth League of the African National Congress. The league's formation marks a shift toward a mass movement. The league's manifesto irks white leaders for its black nationalist language.
1948
The National Party comes into power in South Africa setting the stage for apartheid, a system of strict legal and racial segregation dominated by whites.
Mandela becomes national secretary of the ANC Youth League. In 1950, he becomes its president.
June 26, 1952
ANC's Defiance Campaign opens. Mandela and 51 others break curfew regulations as their first act of defiance against apartheid.
In December Mandela and Tambo open a law practice in Johannesburg, marking the formation of the first black law partnership in the country.
Dec. 6, 1956
Mandela is arrested and charged high treason, along with 156 other political leaders who call for a nonracial state in South Africa.
June 1958
While battling charges of treason, Mandela weds or a second time. His wife, Winnie Nomzamo Madikizela, is a social worker.
March 21, 1960
Police open fire on a demonstration killing 69 black protesters in Sharpeville. In the aftermath South Africa declares a state of emergency the ANC is outlawed.
March 29, 1961
Mandela and his co-defendants case are acquitted after a four-year trial for treason. For the next 17 months, he lives as a fugitive and becomes commander of the ANC's newly formed military wing, Umkhonto we Sizwe (Spear of the Nation). But he never sees combat.
Aug. 5, 1962
Mandela is arrested after returning to South Africa from a trip abroad. At the time of his arrest, he had been living underground for 17 months. He is convicted of leaving the country illegally and incitement to strike, and is sentenced to five years in prison.
In November he is convicted and sentenced to five years in prison.
July 11, 1963
While Mandela is in prison, police raid the ANC's underground headquarters at a farmhouse in Rivonia, outside Johannesburg, and seize documents outlining a planned guerrilla campaign.
June 12, 1964
Mandela and seven others are sentenced to life imprisonment. Mandela is taken to Robben Island Prison, where he will spend the next 18 years.
June 16, 1976
Thousands of students take to the streets of Soweto to oppose the use of Afrikaans as the language of instruction in black schools. The police fire on the protesters, setting off months of violence that will leave more than 570 people dead. The uprising is considered a turning point in the history of black resistance to apartheid.
June 13, 1980
An international "Free Mandela'' campaign culminates with a call for his release by the UN Security Council.
April 1982
Mandela and Sisulu are transferred from Robben Island to Pollsmoor Prison in Cape Town.
Jan. 31, 1985
South Africa's President P.W. Botha offers to pardon Mandela if he renounces violence. Mandela refuses saying that the government must dismantle apartheid and grant full political rights to blacks.
July 18, 1988
Mandela's 70th birthday is observed by anti-apartheid activists worldwide. Most public commemorations in South Africa are banned.
May 17, 1989
Mandela receives his bachelor of laws degree, which he earned through correspondence study with the University of South Africa.
In July President Botha invites Mandela to his official Cape Town residence for a 45-minute talk. Mandela's comments on his conversation with Botha are broadcast on government-run radio and television.
Oct. 15, 1989
Sisulu and four other co-defendants of Mandela are freed unconditionally by F.W. de Klerk, who replaced Botha as president in August. Some see this as the precursor to Mandela's own release.
Feb. 2, 1990
De Klerk legalizes the ANC and 60 other organizations, vows to free all political prisoners, ends restrictions on 374 individuals and places a moratorium on hangings.
Feb. 11, 1990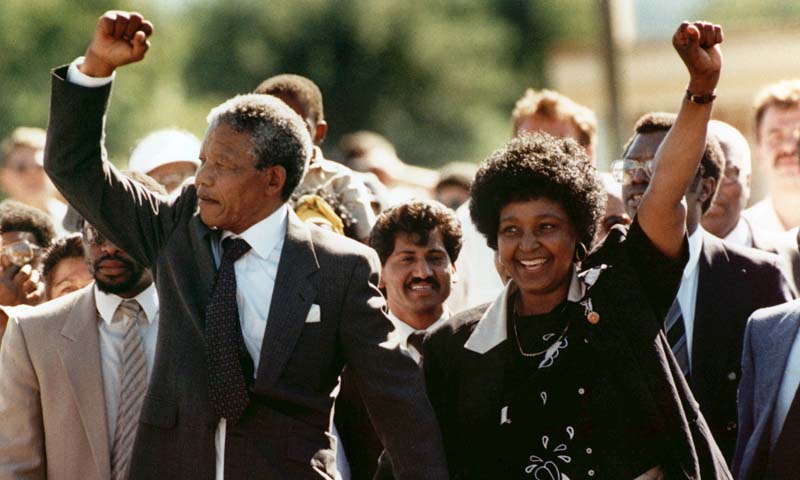 Mandela is freed after 27 years in prison at the age of 71.
In August ANC announces an end to its guerilla campaign against apartheid.
Dec. 20, 1991
Negotiations begin to prepare an interim constitution based on full political equality. President De Klerk and Mandela trade recriminations, with Mr. de Klerk criticising Mandela for not disbanding the ANC's inactive guerrilla operation and Mandela saying that the president "has very little idea of what democracy is."
Oct. 15, 1993
Mandela and de Klerk share the Nobel Peace Prize for working "to peacefully end apartheid" and push South Africa toward democracy.
April 27, 1994
South African apartheid formally ends when the ANC wins a majority of the vote and Mandela, 75, casts the first legal vote of his life in an all-race election and is elected president.
May 10, 1994
Mandela is inaugurated as president of a democratic South Africa.
March 19, 1996
He divorces Winnie Mandela.
July 18, 1998
Mandela marries for a third time at the age of 80.
May 1999
Mandela steps down after choosing not to run for re-election.
June 2, 2004
He announces that he will be stepping down from public life.
June 8, 2013
Mandela is hospitalized with a lung infection and stays there three months.
Dec. 5, 2013
Mandela dies "peacefully" at the age of 95 surrounded by family. President Jacob Zuma says, "Our nation has lost its greatest son" in a televised address.