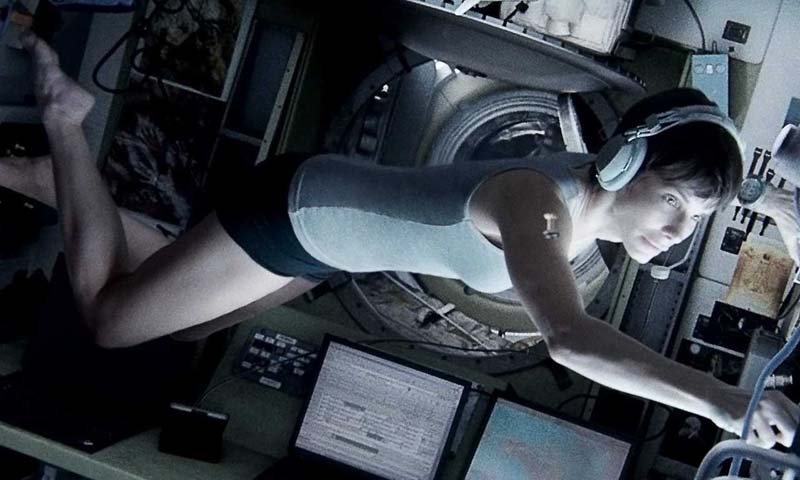 If there's one thing you learn from Alfonso Cuaron's space epic, Gravity, it's how utterly hostile space is.
For centuries humans have lived under the solopsistic assumption that the Universe they live in has been designed with them in mind. But truth is that the Universe is a truly inhospitable place, and, if anything, our existence is mere happenstance, and Gravity illustrates that beautifully.
Starring George Clooney and Sandra Bullock as NASA astronauts, Cuaron sucks you in from the first shot: A long shot of Earth as a space shuttle eventually makes its way into the frame, ending up in a close shot. Filming in 3-D, Cuaron captures the immense and deafening silence of space, the floating motion of zero gravity, along with the hopelessness that you would feel if you ever got stranded in it.
Gravity's premise is pretty simple. NASA astronauts are on a mission to repair the Hubble Space Telescope, when an exploding Russian satellite, sends metal debris right in their path.
The only survivors are Ryan Stone, a mission specialist played by Bullock, and Matt Kowalsky, a veteran shuttle commander on the final run of his career.
The genius behind Gravity is Cuaron and his cinematographer's ability to keep the audience in weightless suspension right along with the astronauts. It's the closest thing most of us will ever get to knowing what it's like to be in space. Cuarón captures the genuinely poetic feeling for the ways in which motion carries through space. It's one of the finest portrayals of space travel in cinema history.
Cuaron's has masterfully used extended sequences without any cuts bringing a sense of place and realism that literally left me feeling breathless in moments. And in 3D you experience the weightlessness and vast distances in space on a visceral level. For all the naysayers of the advent of 3D, as with any new technology, when used well it works seamlessly.
While the visuals were magnificent, it's Cuaron's use of sound and silence that accentuates everything. The moments of mass destruction in orbit are filmed in silence factoring in that sound does not travel in space.
The film's screenplay, co-written by Alfonso Cuaron and Jonas Cuaron, isn't groundbreaking and the truth is, it didn't have to be. Given the backdrop and the situation, it's naive to imagine these characters saying anything too profound. Clooney's humor is goofy and predictable, and depressingly implies how the vastness of space is boring for people who spend their lives floating through it, which is hard to believe.
Ryan is given a backstory about the death of her daughter that feels like an attempt at adding more layers to a story that really doesn't need any more. Isn't it enough that she is running out of oxygen and desperately trying to make her way to the International Space Station in time?
It's almost like Cuaron underestimated his own skills in enticing our empathy for her predicament and felt that the audience needed something more.
But Gravity is not without its Hollywoodesque bending of reality. As the astrophysicist Neil Degrasse Tyson pointed out in a humourous bunch of tweets, it seemed odd that Bullock's character, a medical doctor, was servicing the Hubble Telescope. Additionally, the Hubble telescope couldn't possibly be in the same orbit as the ISS.
But what's the one thing better than a brilliant movie? A brilliant movie with that one tiny flaw that you can pick at all night.