Toronto: Pakistani film, Zinda Bhaag, starring Naseerudin Shah, which is set to be released on 6th September all across Pakistan, has won four awards in three categories at the Mosaic MISAFF festival in a ceremony held on Friday night in Toronto. The awards include Best Film for Zinda Bhaag, Best Music for Sahir Ali Bagga and two awards in the Acting category for Amna Ilyas and Naghma Begum.
The Awards Ceremony held at the Mississauga City Centre was attended by Film Industry leaders, Film Professionals, Local Members of Parliament and Senators. The Mosaic festival is the largest South Asian festival visited by more than 70,000 people from all over Canada each year.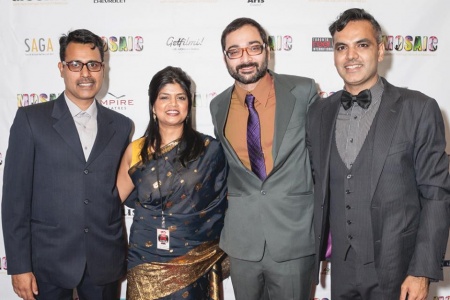 Zinda Bhaag beat Mira Nair's The Reluctant Fundamentalist amongst other international top contenders for the Best Film Award. The award was given to the directors Meenu Gaur and Farjad Nabi. Producer Mazhar Zaidi was present on the occasion to receive the award.
In its brief statement The Mosaic MISAFF Jury headed by Kirk Cooper, said, "For the film that entertained and saddened us, for its music, art direction and overall innovation in storytelling, the best film award goes to Zinda Bhaag."
The Jury statement had this to say about the award for the music composer Sahir Ali Bagga, "For a film that used vernacular, folk and classical elements and original music composition in its soundtrack, Zinda Bhaag gets the award for Best Music". The film's OST boasts names such as Rahat Fateh Ali Khan, Abrar ul Haq, Amanat Ali and Arif Lohar amongst others. One of the songs has been written by the famous novelist Mohammed Hanif.
Further the Jury statement said, " For two actresses that brought wit, intelligence and humor to their roles, we would like to honor both Amna Ilyas and Naghma Begum in Zinda Bhaag."
Zinda Bhaag was the first choice from amongst hundreds of entries to be the Opening Night film of the prestigious festival. The show was sold out in a record time and played to a jam packed house at the grand Empire Cinema in Mississauga, Toronto.
Addressing the audience after the screening, Shireen Pasha, Pakistan's renowned filmmaker said, "I just want to tell everyone that we have taken part in the making of history, because the film we have just witnessed shall be given credit for changing the course of Pakistani cinema."