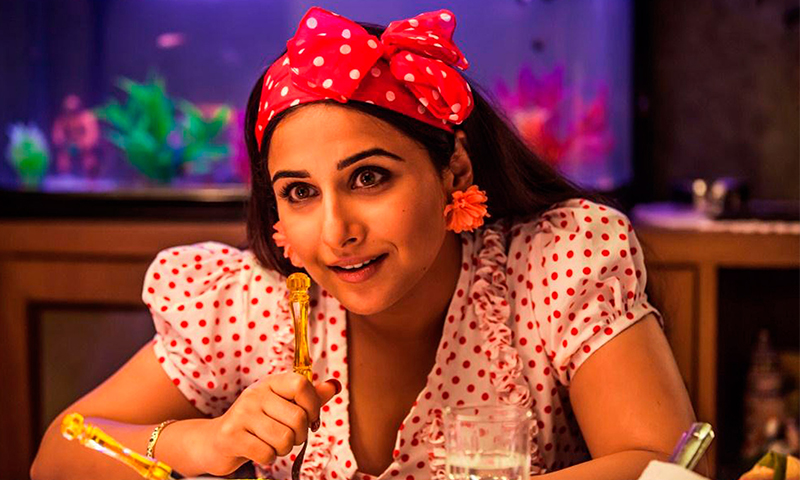 Ghanchakkar – the title tells you a lot, actually.
Sanjay (Emraan Hashmi) is a crackerjack safe cracker, who's misplaced about 35 Crores of bank-heisted money. The problem is, Sanjay's power of recollection is on a gradual downward spiral (he's had an accident we're told). Unfortunately for him, he's on a deadline. He has about a week to recover his memory, find the money or he and the missus, Neetu – an unflatteringly dressed, and now perpetually lumpy, Vidya Balan – gets it.
As a precaution, the hoodlums (Pundit played by Rajesh Sharma and Namit Das' Idris) who employed Sanjay for the break-in, decide on the best available alternative: they get comfy at Sanjay's place until he finds the loot.
Now, on face value (especially if you've seen the trailers), Ghanchakkar may not sound that appealing. But, hold on. Give it a moment to sink in, and you'll find a wry, sprightly, and a touch overconfident foray, with that fleetingly rare dash of originality we seldom expect from cinema.
Also forget the actors – and their star value – for a bit. The film really stars a sly and sometimes cockily placed wit (case in point, a creepily effective robbery scene with Ambitabh Bachchan, Dharmendra, and Utpal Dutt masks), and a self-effacing viewpoint of an affected marriage.
In conjectural retrospect, the marriage angle applies to both pairs. Sanjay and Neetu bicker from their pizazz-less "lack" of a mellowed relationship, while Pundit and Idris play their exact opposites – the more harmonious couple, who have their mind on the matter at hand.
Director Rajkumar Gupta's phlegmatic approach to the camera work plays in favor of Mr. Hashmi's Sanjay, a simple guy and the heavyweight central figure in the film.
Sanjay's wants are more or less limited to a big-screen television, while Neetu's inspirations live-up with star-fashions from Vogue, or Femina or whatever magazine her annual subscription list gets her. Within their space, our connection and Mr. Hashmi's down-to-Earth portrayal makes it easy to accept the awkwardness of what he's roughing through. As his memory lapses, we really do feel him slipping away, mostly to the plot's advantage.
Ms. Balan though, gets the short end of the stick. She's fine, but a few hundred miles away from any original appeal.
Mr. Sharma and Mr. Das though are Ghanchakkar's real sheen anyway, playing complimentary to Mr. Gupta's writing and directorial skills. The film is a laudable improvement from the filmmaker's more "serious" cinematic ponderings.
The circumscribed, stay-at-home option does push Ghanchakkar into a buttonhole, and it leaves the screenplay by Parvez Sheikh and Mr. Gupta – and the film's ensemble acting – open to absorb the negativity of the film's blunders. But the bungles never come to pass (the film has a lack of songs, so there's little deviation from the story Mr. Gupta plans on telling).
There are a few short-comings though. Ghanchakkar's "big reveal" is hardly a revelation. And as frightening as the hoodlums want themselves to appear, their sense of menace never surfaces the way it ought to. Also, their good-cop, bad-cop attitude, gets old fast, and we never get to know much about them.
However, these minor grumbles are just that – minor grumbles. We've endured worse fares in cinemas (and on the telly) believe you me.
Directed by Rajkumar Gupta; Produced by Ronnie Screwvala, Siddharth Roy Kapur. Edited by Aarti Bajaj; Cinematography by Setu; With Music by Amit Trivedi and Amitabh Bhattacharya's Lyrics.
Starring: Emraan Hashmi, Vidya Balan, Rajesh Sharma, Namit Das, Parvin Dabas, Shashank Shende.
Released by UTV Pictures, Ghanchakkar is rated U/A. With Mr. Hashmi, did you really expect a "G" certificate anyway?