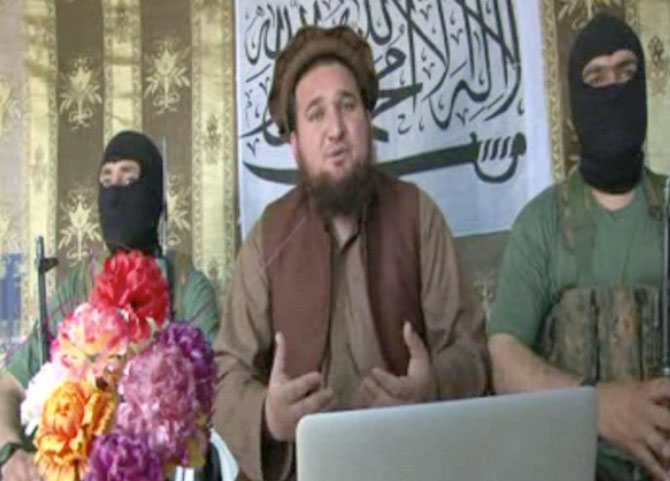 Photo shows Tehrik-i-Taliban Pakistan (TTP) spokesman Ehsanullah Ehsan.—File Photo
PESHAWAR: The banned Tehrik-i-Taliban Pakistan (TTP) has denied reports of militant warlord Mangal Bagh being appointed the supreme leader of the Lashkar-i-Islam (LI) and TTP in northwestern Khyber tribal region.
"There is no truth in the report that the TTP has agreed to Haji Mangal Bagh's elevation as the new chief of both the factions, we don't know about it," said Ehsanullah Ehsan, a spokesman for the Hakimullah Mehsud-led TTP, speaking to Dawn.com from an undisclosed location on Thursday.
Ehsan said that the TTP had 'cordial relations' with the Lashkar-i-Islam chief and the group as a whole, but denied reports that he had been made chief of both militant groups.
"No, I can not confirm Haji Mangal Bagh has been made the TTP and LI joint supreme commander."
Reports had quoted government officials as saying that the decision to elevate Mangal Bagh to status of 'supreme commander' for Khyber was taken at a joint shura of the Taliban and LI commanders.
The Pakistani Taliban spokesman denied Thursday that any such meeting had taken place.
"But yes, I can confirm that we are with the LI and its fighters and support them," said Ehsan.
The reports come at a time when the TTP has tightened its grip on the areas, snatched from Ansarul Islam, a pro-government armed group – including the strategic mountain valley of Tirah in Khyber.
Blast in Tirah
Meanwhile, in battles ensuing between security forces and militants, Ehsanullah claimed the banned outfit had targeted the Aman Lashkar (pro-government militia) fighters in Tirah Valley on Thursday and had killed at least 10 in the remote control bomb attack.
Independent sources however, said that two Lashkar members have died and 22 others in injured in the Tirah Valley IED blast.
With the TTP and pro-government Ansarul Islam battling for supremacy in the remote Tirah valley for almost two months, scores of deaths have been reported on both sides.
According to reports, the security forces have also launched a decisive operation against militants in the region.
It is difficult to independently verify death tolls in the remote tribal region as most reports from the valley, which is inaccessible to the media, pours out from either militants or military sources or official releases by the Inter Public Service Relations, the publicity wing of the Pakistan Army.