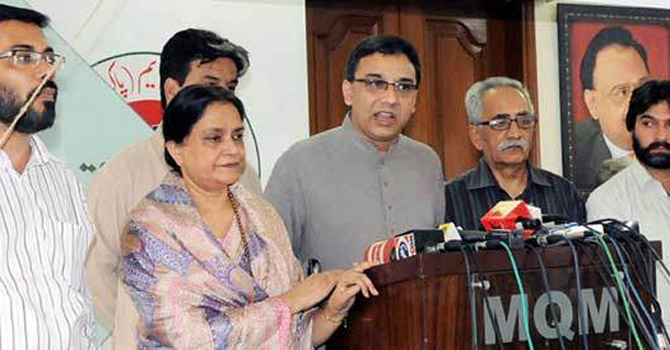 The Muttahida Qaumi Movement (MQM) delegation comprised of Nasrin Jalil and Raza Haroon. — File Photo
LAHORE: Chief of Tehrik-i-Minhajul Quran Dr Tahirul Qadri accepted an invitation by the Muttahida Qaumi Movement (MQM) to visit its party headquarters Nine-zero in Karachi (MQM)on Sunday, DawnNews reported.
A delegation of the Muttahida Qaumi Movement (MQM) met with Dr Qadri the  at his residence at Lahore.
The MQM delegation, comprising of  Senator Nasreen Jalil, Sindh's Member of Provincial Assembly Raza Haroon and MQM Rabitta Committee member Saif Yar Khan,  met with the Pakistan Awami Tehrik chief to discuss the upcoming elections and electoral reforms.
After the meeting MQM leader Raza Haroon said that it was decided during the meeting that the demand to declare all fake degree holding legislators as disqualified would be made.
The visiting delegation of the MQM had extended an invitation to the TMQ chief to visits its party's Karachi centre Nine-zero, which was accepted by the latter.