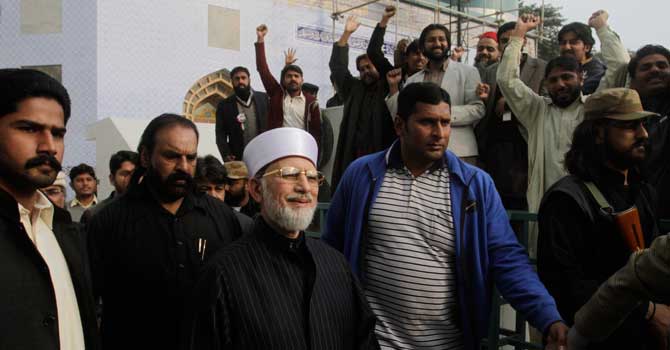 Pakistani cleric Tahirul Qadri, center, surrounded by guards, is greeted by supporters after attending a press conference in Lahore on Saturday. – AP Photo
LAHORE: In a theatrical twist of events, Tehrik-i-Minhajul Quran (TMQ) chief Dr Tahirul Qadri on Saturday evening refused to meet the top leadership of PML-Q because controversial property tycoon Malik Riaz came along with them to woo him to cancel the Jan 14 long march.
Qadri later decided to hold the meeting with Chaudhry brothers when Riaz announced to leave the venue.
Malik Riaz along with Pakistan Muslim League-Quaid leaders, Chaudhry Shujaat Hussain and Chaudhry Pervaiz Elahi, had arrived at Qadri's residence to try to convince him to delay or cancel the protest.
Speaking to media representatives later, Qadri said that there is an impression that Malik Riaz is used to 'purchase people' and said that, "no one in the world can buy even his shoe."
Qadri categorically refused to postpone his protest and said his long march could not be purchased. He reaffirmed his resolve three times that the march would be carried out at any cost, adding that Malik Riaz was not a stakeholder.
Commenting on terrorist threats for his long march, Qadri said that threat of any terror attack could be decreased by 75 per cent if only 'two individuals' were sent to prison. He refused to name the persons.
Speaking to reporters, Elahi clarified that they had brought Malik Riaz with them as his 'speedy wisdom' had previously worked under this sort of circumstances.
Moreover, Riaz, before leaving the venue, claimed that matters between the TMQ chief and Chaudhry brothers were very close to being resolved.
Speaking at a press conference earlier on Saturday, Qadri had announced his charter of demands before the upcoming general elections and called for the Election Commission of Pakistan to be dissolved and a new "impartial commission" to be formed.