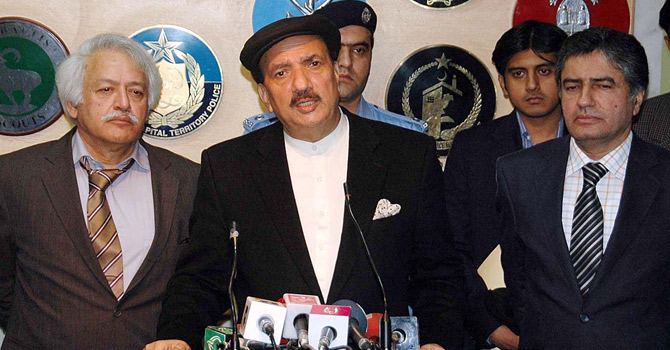 Interior Minister, Senator A. Rehman Malik talking to media persons after chairing a meeting to review security arrangements made for Muharramul Harram in the country at Ministry of Interior. —Photo by APP
ISLAMABAD: Interior Minister Rehman Malik said on Monday that the government was ready to give a general amnesty for all proscribed organisations, including Tehrik-i-Taliban Pakistan, if they renounced terrorism.
"If proscribed organisations agree to cooperate with the government and give up terrorism, they will be removed from the list of banned organisations," the interior minister said at a press conference here on Sunday.
The minister discussed in detail performance of law-enforcement agencies personnel in providing security to Aashura processions and gatherings. He invited all banned organisations, including the TTP, for talks and said it was time for Hakimullah Mehsud, whether he was physically fit or suffering from any disability, to apologise to the nation and stop playing into the hands of anti-Pakistan forces.
Mr Malik said it was an opportunity for Hakimullah Mehsud to stop killing of innocent people and live a peaceful life.
"Hakimullah don't hide in one bunker or another. Today, I announce a general amnesty for you if you stop killing innocent people. The enemies you are working for will kill you too, one day," the minister said. He claimed the government knew the forces which were using the TTP to fulfil their designs.
"We know who they are. We know that those involved in the killing of Ms Benazir Bhutto are using you."
Mr Malik said proscribed organisations could take advantage of the amnesty offer and cooperate with the government in eradicating terrorism from the country.
Otherwise, he added, the government was determined to act against elements who were killing innocent people.
Mr Malik said intelligence reports revealed that the TTP had 'franchised' terrorism and several groups involved in incidents of target killing and kidnapping for ransom were using TTP's name.
He said the government had evidence that the banned Lashkar-i-Jhangvi organisation was involved in targeted killings and other acts of terror during this year's Muharram processions. One activist this organisation, Attaullah, was arrested by law-enforcement agencies in Karachi on Saturday and a large quantity of explosives seized.
"This explosive material was to be used for killing people in Aashura processions," he said.
"Attaullah is an active member of Lashrak-i-Jhangvi and he received military training in Miramshah in 2008."
About a bomb blast in a shop on the route of the main Aashura procession in Dera Ismail Khan, Mr Malik said the incident could have been averted had security forces also searched closed shops during screening of the area.
PRESIDENT'S NOTICE: Meanwhile, President Asif Ali Zardari asked the interior minister to submit a comprehensive report on terrorist attacks in Dera Ismail Khan and Rawalpindi and said these incidents were aimed at undermining sectarian peace and harmony during the holy month.
"Such unfortunate and condemnable acts of violence failed to mar the overall atmosphere of peace and harmony witnessed during Aashura mourning period," President's spokesman Farhatullah Babar quoted the president as saying.
The president appreciated the efforts made by the government and all law-enforcement agencies for maintaining peace during Aashura. He also praised Ulema, welfare organisations and general public for having cooperated with the government in ensuring peace.