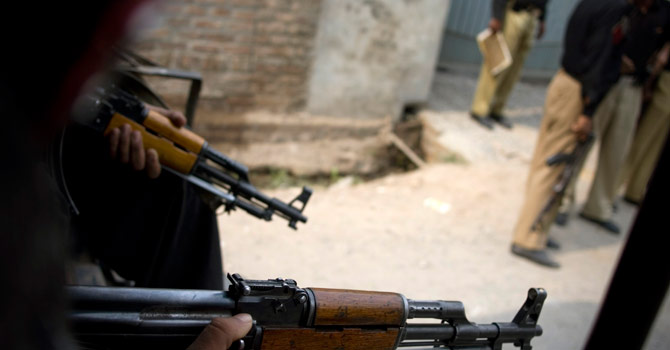 Police officers hold their weapons as they stand guard in KP. – File photo by AP
CHARSADDA: District Police Officer (DPO) Charsadda Nisar Marwat on Tuesday escaped a road side Improvised Explosive Device (IED) attack but his guard and driver have been injured in the explosion, officials said.
Marwat's vehicle was targeted with a remote control IED planted on a bicycle near Lasania Restaurant in Kulladher Bypass area on Mardan Road when he was going home from his office.
The DPO told media representatives that he was sitting in another vehicle and survived the attack but his official car had been damaged in the explosion.
Station House Officer (SHO) Charsadda Police Station Rokhanzeb informed that around three kilograms of explosive was used in the blast and it was fixed on a bicycle. He confirmed that two people have been injured in the blast.