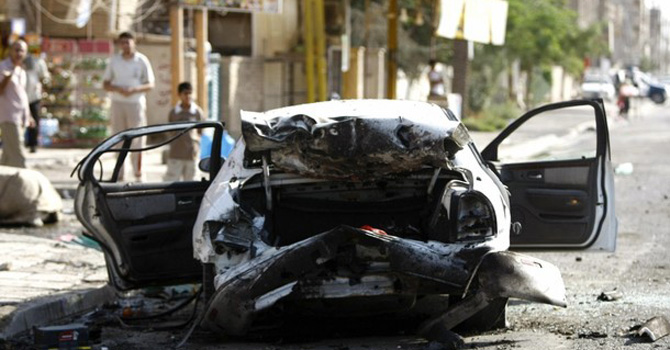 Iraqi residents stand next to a damaged vehicle at the scene of a car bomb blast in Baghdad. — File Photo by AFP
BAGHDAD: A car bomb and mortar attacks against predominantly Shia neighbourhoods in north Baghdad killed at least seven people on Tuesday, security and medical officials said.
Multiple mortars struck the Chikouk area while a car bomb exploded in Shuala, all minutes apart at around 6:45 am (0345 GMT), an interior ministry official said.
The official put the toll from the attacks at nine killed and 12 wounded, while a medical source said seven people died and 22 were hurt. The medic warned that the toll could rise.
Conflicting casualty figures are common in the chaotic aftermath of violence in Iraq.
Both of the neighbourhoods are majority Shia, and Chikouk in particular is home to a camp for internally displaced persons, mostly Shia who fled largely Sunni areas during the worst of Iraq's confessional violence in 2006 and 2007.
The attacks come after 12 people were killed in nationwide violence on Saturday, with the deadliest violence then also striking a Shia area of north Baghdad.
Violence is down sharply across Iraq from its peak in 2006 and 2007, but attacks are still common, especially in Baghdad and Mosul. At least 250 people have been killed as a result of unrest in each of the past four months.