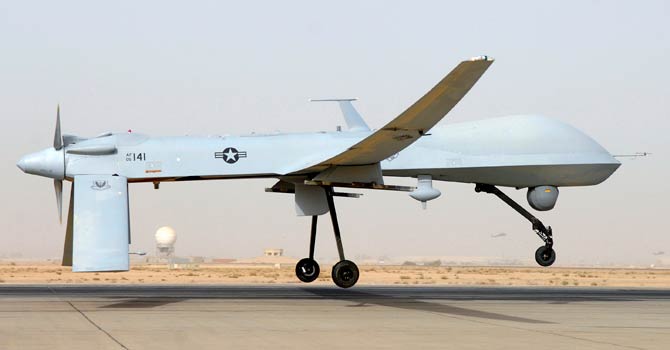 The covert CIA drone program has drawn strong criticism in the country, with many Pakistanis complaining the strikes kill innocent civilians.—Reuters Photo
ISLAMABAD: Pakistan's Foreign Office on Thursday summoned a senior American diplomat to protest against US drone strikes in the country's troubled tribal areas bordering Afghanistan.
According to a statement issued by the Foreign Office spokesman, the US Embassy in Pakistan was "démarched on recent drone strikes in North Waziristan."
Pakistani officials told the diplomat, who was not identified, that the attacks were unacceptable, unlawful and a violation of the country's sovereignty.
"A senior US diplomat was called to the Ministry of Foreign Affairs and informed that the drone strikes were unlawful, against international law and a violation of Pakistan's sovereignty," said an official statement.
"It was emphatically stated that such attacks were unacceptable."
The latest drone attack in North Waziristan came Tuesday when an unmanned American aircraft fired missiles at a vehicle near the tribal agency's Shnakhura village, killing five suspected militants and injuring two. Officials said the area of the drone attack is dominated by anti-US militant commander Hafiz Gul Bahadur.
The recent spike in drone action has threatens to add tensions to relations between the two allies, just as they appeared to be improving. The covert CIA drone program has drawn strong criticism in Pakistan. Pakistani officials charge such strikes violate their country's sovereignty. Many Pakistanis complain that the strikes kill innocent civilians.