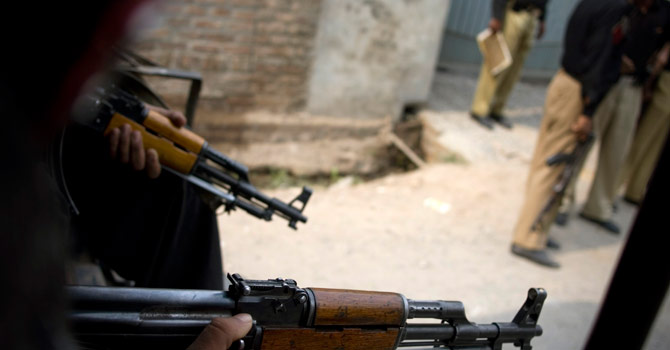 Police officers hold their weapons as they stand guard in Peshawar. – File photo by AP
PESHAWAR, Aug 16: After the militant attack on Kamra airbase in the day, police on Thursday increased security checks in the provincial city, especially in markets, which currently teem with Eid shoppers.
Policemen were seen in markets and shopping centres, and around places of worship in large numbers.
As a security check, entry of vehicles from Mall Road to Saddar Bazaar via Arbab Road was banned by barbed wires and cemented blocks. According to police, the ban will be in place until Ramazan ends.
Similarly, checking of visitors to cantonment area at security checkpoints was tightened by security forces.
Long queues of vehicles were observed at the checkpoints on Fakhr-i-Alam Road, Saddar Road and Mall Road, and near Khyber House.
Police also restricted movement of auto-rickshaws and taxis on Saddar Road from Qayyum Stadium and directed people to park vehicles at the parking space near Qayyum Stadium Chowk.
A police official said over 2,000 personnel had been deployed at important places to keep a close eye on the people's movement and take timely action in case of unpleasant happening.
He said hundreds of policemen, including women, had been deployed in narrow streets, at intersections and bus stops, near mosques, and on link roads.
He also said Riders Squad had been given extra duties to monitor pathways and roads linking rural areas to check the movement of arms ammunitions from tribal areas.
He said on chaand raat (the night ahead of Eidul Fitr), police will be deployed at public places, especially markets, in large numbers.
Another police official said the areas along the border of Khyber Agency were very sensitive and additional force should be deployed to stop the miscreants' movement from tribal areas into Peshawar.