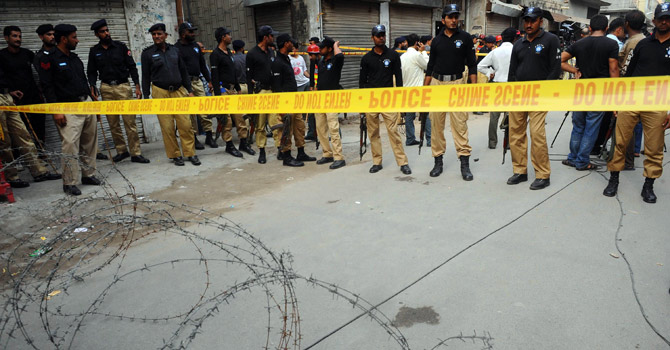 Pakistani policemen — AFP Photo
ISLAMABAD: Four Pakistani policemen have been suspended after allegedly parading a man and two women naked in a town, police officials said on Sunday.
It was unclear clear why the three were naked while being escorted to the police station in the southern town of Gambat on July 28.
The man, businessman Mumtaz Mallah, 52, told Reuters police were punishing him for refusing to pay him a bribe.
Irfan Baloch, a senior local police officer, said all three were part of a prostitution ring and authorities were responding to community pressure by arresting them.
The trio were already naked when police raided Mallah's home, he said.
"The main arresting police officer's mistake was that he should have covered them up," said Baloch.
Town residents took video footage of the arrests which shows Mallah trying to put clothes on.
Mallah has been released on bail. The two women are still in police custody, Baloch said.