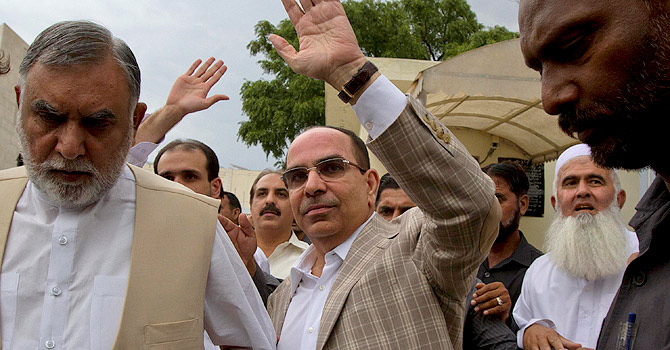 Real estate tycoon Malik Riaz (C) waves to members of the media as he leaves after appearing before the Supreme Court in Islamabad, June 12, 2012. — Photo by Reuters
ISLAMABAD, July 19: Television anchors Hamid Mir and Absar Alam filed on Thursday a joint petition with the Supreme Court seeking an inquiry into the list of journalists and anchors who were allegedly granted favours by owners and administration of Bahria Town Ltd.
They have asked the court to direct the Bahria Town and its former chairman Malik Riaz to appear along with a proof of all the persons, including journalists, military officials and bureaucrats and any other individual whom they have tried directly or indirectly to buy favours from.
The context in which the petition has been filed is very clear. Soon after real estate tycoon Malik Riaz claimed that he had paid huge sums of money to Arsalan Iftikhar, the son of Supreme Court Chief Justice Iftikhar Muhammad Chaudhry, for possible relief in certain court cases, a leaked conversation between Mr Riaz and two anchorpersons during intervals of a talk show had provoked public anger against the media. The following day a list apparently on the letterhead of the Bahria Town was circulated on social media, containing names of the anchors and journalists allegedly paid hefty amounts by the Bahria Town besides luxury cars, plots, houses and sponsored visits to foreign countries.
The petition seeks directions to the Federal Board of Revenue to produce asset and income statements of all media persons under scrutiny and question. It also seeks directions to the Federal Investigation Agency to inquire as to who spread the list of media persons on social media and through short messaging service (SMS).
The scope of the petition is wide ranging as it not only challenges the legality of establishment and maintenance of secret fund by the information ministry and seeks the court to summon complete record of the money doled out to various elements along with the purpose, but also pleads for asking the DG of Anti-Corruption of Punjab police to reveal reasons of hushing up a scam involving misuse of Rs640 million government funds. It also questions the legal status of code of conduct for the electronic media and calls for disclosure of assets and political affiliation of TV channel owners.
The petition says it was essential that rags to riches story of Malik Riaz be made public as to how an ordinary man over the course of less than two decades became one of the richest man in the country. It questions the dubious nature of land acquisition by Malik Riaz and the Bahria Town and calls for exposing certain criminal element aiding and abetting Malik Riaz as his muscle by their active role in forcibly taking over possession of land from real owners.
The petitioners have asked the court to either adjudicate and inquire into the issues itself or to constitute a commission for the purpose.