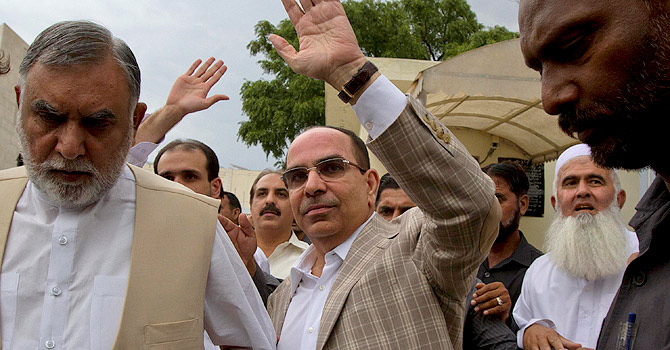 Real estate tycoon Malik Riaz (C) waves to members of the media as he leaves after appearing before the Supreme Court in Islamabad, June 12, 2012. — Photo by Reuters
ISLAMABAD: The Supreme Court on Friday formed a two-member committee to investigate the controversial off-air clips of a talk show aired by a private television channel. The apex court directed Pakistan Electronic Media Regularity Authority (PEMRA) to present a complete report on the issue to SC's registrar, DawnNews reported.
The two-member committee, comprised of Justice Jawwad S Khwaja and Justice Khilji Arif, will investigate the case and will formulate its recommendations, said the SC's full-court statement.
The controversial video was shown in SC' full-court meeting of 17 judges headed by Chief Justice Iftikhar Muhammad Chaudhry.
The registrar of the apex court said that the intention of the programme was to defame the judiciary. Planted questions were asked from Malik Riaz in his interview, he added.
Earlier, the apex court summoned the record of the controversial clips from the Pemra.
The show was aired by a private TV channel on Wednesday in which Mubashir Lucman and Mehr Bokhari interviewed real estate tycoon Malik Riaz in the light of the ongoing controversy pertaining to allegations against Arsalan Iftikhar, son of Chief Justice Iftikhar Mohammad Chaudhry.
The footage of the interaction of Lucman and Bokhari with Riaz on Wednesday night was uploaded on the internet.
It showed their unguarded conversation with each other and with Riaz as they discussed the interview during commercial breaks.
The footage moreover gave the impression that the anchors were catering to the guest's requests over questions and that the interview was being conducted in accordance with the wishes of certain influential individuals.