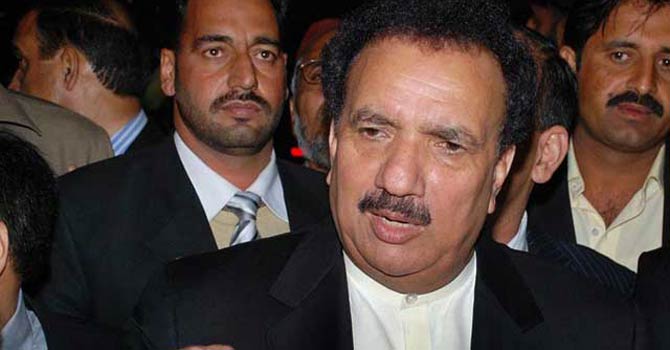 Interior Minister Rehman Malik — APP File Photo
ISLAMABAD: The Supreme Court on Monday suspended Senate membership of Interior Minister Rehman Malik while hearing the dual nationality case, DawnNews reported.
A three-member bench headed by Chief Justice Iftikhar Mohammad Chaudhry heard the case. The petition was filed by Syed Mehmood Akhtar Naqvi seeking a declaration against parliamentarians and members of different provincial assemblies holding dual nationality.
The apex court issued these orders over Malik's failure to produce the documents, proving that he had given up his British nationality, on repeated court orders.
Earlier today, the apex court gave an hour's deadline to Malik to produce the documentation.
Advocate Waheed Anjum requested the apex court to allow him to become a party in 'the dual nationality case' and presented a list of 14 parliamentarians who possess dual nationalities.
The list comprised of parliamentarians belonging to the Pakistan Muslim League- Nawaz (PML-N), the Muttahida Qaumi Movement (MQM) and the Pakistan People's Party (PPP).
Notifications have been issued to these 14 parliamentarians to explain their cases before the court.
Last month, the Supreme Court had suspended parliamentary membership of MNA Farahnaz Isphanai on her admission that she holds US citizenship as well.
AFP adds:  "The bench ordered the suspension of Rehman Malik's membership of the Senate," a court official said on condition of anonymity because he was not authorised to speak to the media.
The court said Malik's membership would be restored if he furnished adequate proof on June 13 that he had renounced his British citizenship before his election, he said.
The hearing of the case was also adjourned until June 13.