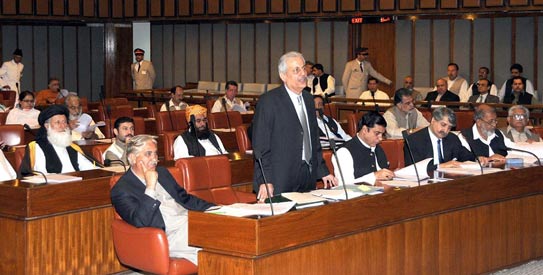 ISLAMABAD: On a dusty day, parliament set out on an unfamiliar road to guide foreign policy on Tuesday, with a key committee demanding that the United States "review its footprints" in Pakistan at the cost of some money, ego and military tactics.
The much-awaited report of the all-party Parliamentary Committee on National Security (PCNS), presented in a joint sitting of the National Assembly and Senate, included calls for US and Nato forces in Afghanistan to pay charges for the transit of their supplies via Pakistan, an "unconditional" US apology for a deadly attack on Pakistani border posts in November and a halt to drone attacks in Pakistan's tribal areas.
The sitting, convened in the midst of some of the worst strains in Pakistan's ties with a long-time ally, was adjourned after committee chairman, PPP Senator Raza Rabbani, unveiled the report that was kept secret since its finalisation in January and some initial reservations voiced by opposition leader in the National Assembly Chaudhry Nisar Ali Khan.
The two houses met as Islamabad and adjoining areas were engulfed by a blanket of dust following overnight dust-storms in the region.
The exercise that began on Tuesday is the first to give parliament a formal role to guide Pakistan's foreign policy, which for decades have mainly been the preserve of military-civil bureaucracy, though the present venture was aimed mainly to frame guidelines for what the report described as "revised terms of engagement" with the United States, Nato and the US-led International Security Assistance Force (Isaf) in Afghanistan.
Though causes of strains included the CIA-guided drone strikes at suspected Al Qaeda and Taliban hideouts in the tribal areas and the May 2, 2011, US commando raid that killed Al Qaeda chief Osama bin Laden at his Abbottabad hideout, the government suspended transport of Nato supplies via its land route, ordered US personnel out of the Shamsi airbase in Balochistan province that was used for drone attacks and sought PCNS recommendations for a review of ties days after the Nov 25-26 raid on Pakistan's border posts in Mohmand tribal agency that killed 24 soldiers.
In a speech before reading out the report at the start of the sitting, chaired by new Senate Chairman Nayyar Hussain Bokhari, Mr Rabbani said his 16-member committee had acted with responsibility and kept interests of Pakistan's sovereignty and territorial integrity as well as aspirations of its people in view in preparing the 16-point report and that it was now for the combined house of the 342-seat National Assembly and the 104-seat Senate to adopt the document as a whole or with amendments, or reject it.
He complained about what he called criticism from some unspecified quarters in the "corridors of power" and the so-called establishment of the committee's decision to keep its report confidential until its presentation to the parliament and their view that there was no time left for a debate, and said: "Time for debate is now."
After voicing what he called "serious reservations" about a recommendation for "prior permission and transparency" on the number of foreign intelligence operatives in Pakistan, which he said amounted to allowing such operatives, Chaudhry Nisar demanded a two-day recess to allow lawmakers to study the report before starting a debate.
But after some exchange of views between the two sides, with PPP chief whip Khursheed Ahmed Shah saying the government side was not in a hurry, the meeting was adjourned until 4pm on March 26.
The two sides also agreed for a possible secret session of the joint sitting to discuss the implications of two memorandums of understanding signed with British and the US authorities concerning facilities given to the US and Nato forces in Afghanistan after Chaudhry Nisar demanded that the two documents be circulated among the members and the government side pointed to the sensitivity involved.
The presentation of the report set off speculations about whether the recommendations could be adopted unanimously as had happened on some domestic issues in the past by the two houses and the future of subsequent negotiations mainly with the United States on related issues, the most ticklish of which appeared to be drone attacks that Washington deems vital to counter alleged militant safe haves in the tribal areas.
In brief, the committee recommendations are:
--- Pakistan's sovereignty "shall not be compromised" and Pakistan-US relationship should be based on mutual respect, independence and territorial integrity of each other.
--- "The US must review its footprints in Pakistan" and that would mean cessation of drone attacks inside Pakistan's territorial borders, "no hot pursuit or boots" on Pakistani territory, and activity of foreign private security contractors to be transparent and subject to Pakistani law.
--- Pakistan's nuclear programme and assets cannot be compromised and Pakistan should seek a treaty or facility similar to Indo-US civil nuclear agreement, and that Pakistan's strategic position vis-à-vis India on the Fissile Material Cut-off Treaty must not be compromised.
--- The government of Pakistan should seek an unconditional US apology for the Nov 25-26 raid on Salala border posts in addition to bringing those responsible to justice, assurances and effective measures to prevent such attacks, parliamentary approval for any use of Pakistani bases by foreign forces, and drafting new flying rules by the defence ministry/PAF and Isaf/US/Nato for areas contiguous to the border.
--- Any consideration regarding reopening Nato/Isaf/US supply routes "must be contingent upon a thorough revision of the terms and conditions of the arrangement, including regulation and control of movement of goods and personnel which shall be subject to strict monitoring within Pakistan on entry, transit and exit points". No verbal agreements regarding national security to be entered, and, regarding use of Pakistan's territory by US/Nato/Isaf for logistic purposes, the government should revisit a memorandum of understanding (MOU) signed with the United Kingdom on June 19, 2002 and renew, if required, with new terms and conditions, another MOU signed with the US defence department on Feb 9, 2002.
--- No overt or covert operations inside Pakistan to be tolerated.
--- Any new agreements or MOUs, including military cooperation and logistics, to be circulated by the foreign ministry to all concerned ministries and attached departments for their views, to be vetted by the law ministry and PCNS, and the concerned ministers to make policy statements in both houses of parliament.
--- Prior permission and transparency on the number and presence of foreign intelligence operators in Pakistan.
--- Fifty per cent of US/Isaf/Nato containers he handled through Pakistan Railways.
--- Taxes and other charges to be levied on all goods imported in, or transiting through, Pakistan "for use of infrastructure and to compensate for its deterioration".
--- Pakistan must actively pursue greater market access for its exports to the US, other Nato countries and global markets.
--- "In the battle for hearts and minds, an inclusive process based on primacy of dialogues and reconciliation should be adopted and efforts be made to promote a genuine national reconciliation in an Afghan-led and Afghan-owned process.
--- Pakistani territory not to be used for attacks on other countries and all foreign fighters to be expelled.
--- A fast-track process of billing and payments with regard to what is called Coalition Support Fund and other leviable charges be adopted.
--- The government needs to review the present foreign policy focus keeping in view people's aspirations, including a continuing focus on creating a peaceful environment in the region, result-oriented dialogue with India on issues including Kashmir, deepening strategic partnership with China, further strengthening relations with Russia, support for peace in Afghanistan and active pursuance of gas pipeline project with Iran.