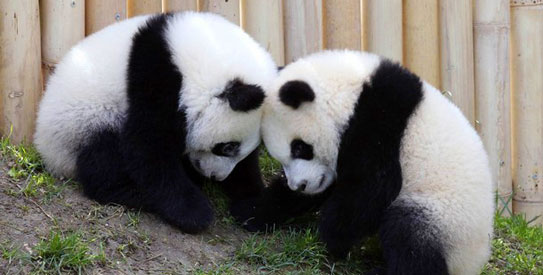 BEIJING: China began on Wednesday streaming live video footage of its pandas around the world via webcam in an attempt to boost awareness of conservation efforts for its beloved but endangered animal ambassadors.
High-definition cameras are set to feature pandas in two reserves at the Bifengxia Panda Center near Ya'an city in China's southwestern Sichuan province, the media non-profit Explore.org and China Conservation and Research Center for the Giant Panda said in a statement.
"Using cameras to share these magnificent creatures in their homeland will remind people of the heavy responsibility we all have to the world we share," Li Desheng, a doctor at the panda research center, said in the statement.
Camera one follows five young cubs, Zhichun, Qingshan, Chaoyang and twin toddlers Fengfeng and Au'au. Camera two features two adult pandas, Yaoman and Shenbing. Both can be accessed at the project's website: www.explore.org/pandas.
The groups said the website will transmit a mix of live footage and re-broadcast highlights.
On Wednesday, one camera showed two pandas rolling on their backs while munching on leaves in misty mountain surroundings. A third panda could be seen in the background walking along a hill.
"This is just too cute. I'm seeing two pandas 'leaning' up against each other, eating bamboo. Just too darn cute!!!" a user named "swom" said of some earlier footage in an online posting.
Considered a national treasure, pandas have come back from the brink of extinction but they remain under threat from logging, agriculture and encroachment.
In 2004, a census by the Worldwide Fund for Nature found 1,600 pandas in the wild, most in Sichuan province.
China has been sending pandas abroad in gestures of goodwill since the 1950s in what has come to be known as "panda diplomacy".