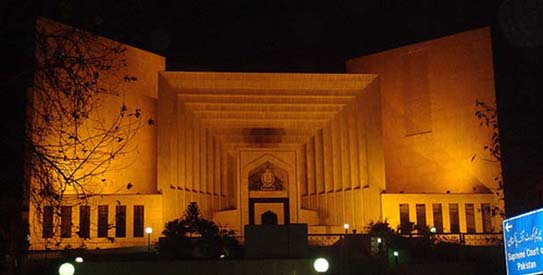 ISLAMABAD: The Supreme Court on Friday issued notices to the attorney general and ministry of defence, directing them to procure daily secret reports submitted by Military Intelligence and Inter Services Intelligence (ISI) regarding law and order situation in Balochistan province.
A three-judge bench comprising Chief Justice Iftikhar Mohammad Chaudhry, Justice Khilji Arif Hussain and Justice Tariq Parvez also directed respondents to apprise the bench on next date of hearing whether such reports were classified or otherwise.
The bench was hearing a constitutional petition moved by Hadi Shakeel and others under Article 184 (3), regarding protection to life and property of the residents of the province.
Director Legal Intelligence Bureau also submitted a report, terming it as classified. The bench directed the officer to submit it with the registrar office for their perusal.
The bench after going through the report remarked that the things mentioned in the report were already known to everyone.
The chief justice said that they were not satisfied with the report.
He directed the counsel appeared for the provincial government to prepare a summary of reports of special branch and others.
The bench said that the additional advocate general Balochistan should complete the task and adjourned the hearing of the case till February 6.