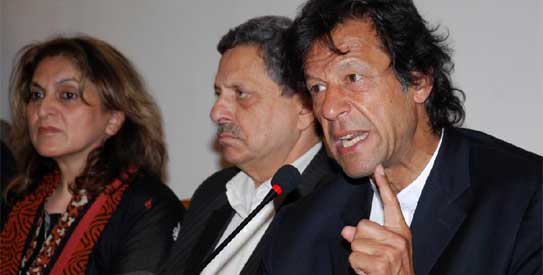 ISLAMABAD: Cricketer-turned-politician Imran Khan has said his party will ensure that no militant groups operate from Pakistani soil if it comes to power, but stopped short of committing himself to action against the Jamaatud Dawa, and its leader Hafiz Saeed due to the threat posed to politicians by extremists. According to a PTI (Press Trust of India) report, the head of the Pakistan Tehrik-i-Insaaf party said it should be the country's state policy to ensure that "there are no militant groups operating from within Pakistan".
He remarked that as "things stand today, Pakistan has no choice but to go this way".
"As a policy, if the Pakistan Tehrik-i-Insaaf government comes to power, we will insist on there being no militant groups operating within Pakistan because the world has changed. The groups that were created during the Afghan Jihad, and this is now an outdated concept of having them as assets," Mr Khan said in an interview with Karan Thapar for CNN-IBN's "Devil's Advocate" programme.
However, when he was specifically asked if he would check the activities of Hafiz Saeed, blamed for masterminding the 2008 Mumbai attacks, and his group JuD and its front organisations like the Falah-e-Insaniyat Foundation, he did not commit himself to acting against these elements due to perceived fears posed by extremists.
"Look, I'm living in Pakistan. Pakistan at the moment is the most polarised country in the world. A governor gets shot, his assassin becomes a hero. There's no point in becoming a hero right now in this country where there's no rule of law," he said, referring to the assassination of Punjab Governor Salman Taseer.
"Life is very cheap here, so just let me make a policy statement. Don't just go into details. As a policy statement, it should answer your question. No militant groups operating from within Pakistan," he said.
Mr Khan said the time had come "to not only remove all militant groups (and) disarm them" but also to work for the "de-weaponisation in Pakistan because it is causing massive problems within the country".
"Therefore, once that issue disappears, once there are no militant groups within Pakistan, I think that issue will disappear," he contended.
Asked how his party's policy towards India would be different, Mr Khan replied that he would work for a new relationship "based on mutual trust" in which intelligence agencies would have no role.
He said: "At the moment, Pakistan doesn't trust India. India doesn't trust Pakistan. Here there is a big perception that our water is being stolen, and (in) Balochistan, the Indian secret services are active with the BLA (Balochistan Liberation Army).
"In India, the perception is that any terrorist act is financed by Pakistan's ISI (Inter-Services Intelligence). You can never have a relationship based on mistrust. I think the time has come to have a new relationship and I believe that if you can eliminate the roles of intelligence agencies, (the) two civilian governments can sit together and say we'll resolve all our issues through dialogue. I think it's the way forward because the benefits of peace are enormous," he added.
There are militant groups that are "targeting people within Pakistan" and countries around the world, including Afghanistan, European nations and the US were "complaining" about terrorism emanating from Pakistan, Mr Khan said.
He said that if he became prime minister after the next election, he would take on the "responsibility" and "authority" for tackling terrorism blamed on the ISI or militant groups. "It's not going to happen that here's me holding responsibility and some group is operating independently, whether it's the ISI or any other group," he said.
"The answer is the ISI and the army would be under civilian government control, and if I can't do it, I'd much rather resign. But if I take responsibility, it would mean that whatever policy is made by our cabinet will have to be enforced...with every institution."
Asked if he would ensure that the ISI and Pakistan Army would not target India if he became the premier, Mr Khan said: "But ISI and army are the same thing. I am saying that if I, as the elected prime minister who has the mandate of the people, if every institution is not under the civilian government, I'd much rather resign.
"Remember, don't confuse me with these other people who do not come to power to govern. They're all making money and they allow different groups to operate," he said.
M Khan added: "I'm not only making a promise to the Indian people, I think I'm making a promise to anyone. The biggest problem the US faces, you know they worry about terrorism from Pakistani soil. It's not just India which is worried. If I cannot stop terrorism from Pakistani soil, I'd rather not be the prime minister."
At the same time, Mr Khan said Indians should "guarantee us that we should have no problems either in Balochistan or in some areas where Indian agencies are blamed".He contended it would be wrong to blame Pakistan for the problems in Afghanistan as 140,000 troops from the US and Nato had failed to provide a solution in the war-torn country. "The greatest military machine ever has failed, and to blame a few thousand (fighters from) the Haqqani group from Pakistan...not only is this completely not plausible but it's defying history. Afghans have never accepted foreign invaders," he said.—Courtesy PTI