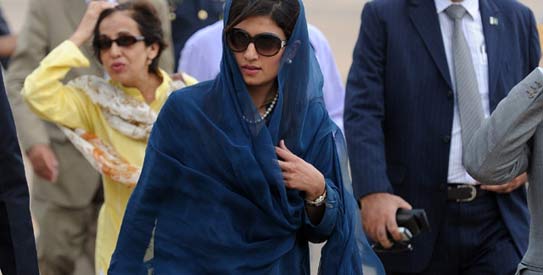 ISLAMABAD: Pakistan has expressed reservations over the proposed draft of the declaration of the upcoming Istanbul Conference on Afghanistan, which may complicate international efforts for evolving a consensus on the document.
The conference slated for Nov 2 is expected to discuss transition in Afghanistan, reconciliation with Afghan insurgent groups and regional economic cooperation.
Foreign Minister Hina Rabbani Khar will lead Pakistan's delegation at the conference that will follow a Pakistan-Afghanistan-Turkey summit to be held a day earlier. The summit will be attended by President Asif Ali Zardari, Afghan President Hamid Karzai and Turkish President Abdullah Gul.
Two preparatory sessions held in Oslo and Kabul for achieving an agreement on the desired outcome of the Istanbul Conference could not bridge the differences.
The issues were reported to have been raised also with US Secretary of State Hillary Clinton during her visit to the country last week.
"It is important that unity of purpose and region's support for Afghanistan must be ensured through consensus decision making," Foreign Office spokesperson Tehmina Janjua said about the conference at her weekly media briefing here on Thursday.
The most critical difference revolves around a proposal for setting up a 'regional structure' on Afghanistan and the neighbouring region, a Pakistani diplomat said.
The regional group is proposed to include over a dozen countries in Afghanistan's immediate and broader neighbourhood in addition to the United States
Pakistan believes that existing mechanisms are adequate to hold consultations on Afghanistan and any attempt to impose a 'super-structure' or 'an additional architecture' can be counter-productive, particularly in view of some complex regional dynamics, more specifically the Indo-Pakistan rivalry.
"The existing regional organisations and arrangements may also be urged to prioritise support in their respective domains for achieving the afore-stated objectives of a stable, peaceful and prosperous Afghanistan in a stable, peaceful and prosperous region," the spokesperson said.
Pakistan has long opposed the setting up of a contact group on Afghanistan and had pre-empted a similar move last year during the London Conference on Afghanistan.
Officials said the current draft was more about confidence-building measures, whereas Pakistan wanted it to reflect the broader principles for cooperation.
It wants states attending the conference to affirm their commitment to Afghanistan's sovereignty, territorial integrity, unity, inviolability of borders and non-interference and non-intervention in the country's internal affairs. Besides, it will like the conference to pledge support for eliminating terrorism as well as production and trafficking of narcotics.
"We believe the Istanbul Conference should manifest in tangible terms its support for Afghanistan on the basis of established principles of inter-state conduct enshrined in the UN Charter and the international law as well as material, financial and technical support for socio-economic development," Ms Janjua said.
The Foreign Office is hopeful that its concerns will be addressed.
"I have referred at the start of today's briefing to some commitments, some principles, which we would like to be reflected in the Istanbul document. As yet, we understand that this is not the final document. It is a work in progress," the spokesperson said.
CLINTON VISIT: "We evaluate Secretary of State Clinton's visit positively. The visit was useful and constructive. It allowed an opportunity for in-depth discussions. It was clear during the discussions that there is broad convergence of views between the two countries at the strategic level. Both countries agreed to have a work plan in order to translate these convergences into desired results," Ms Janjua said.
Syed Irfan Raza adds: The spokesperson said President Zardari would visit Turkey from Monday and Pakistan would raise at the trilateral summit the issue of attacks by militants from Afghanistan.
"Pakistan attaches importance to the various trilateral, quadrilateral and other processes relating to Afghanistan and will continue to contribute constructively to all endeavours and initiatives in this regard."