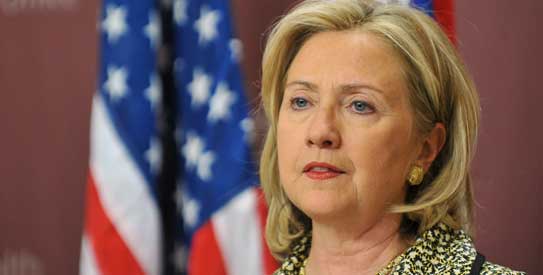 KABUL: A major offensive is under way against Haqqani militants in eastern Afghanistan and Pakistan must act to remove safe havens on its side of the border, US Secretary of State Hillary Clinton said Thursday.
"We are taking action against the Haqqanis. There was a major military operation inside Afghanistan in recent days," she told a joint news conference with Afghan President Hamid Karzai.
"It continues. That has been rounding up and eliminating Haqqani operatives on this side of the border," she added.
The top US diplomat also said there was an "international effort to squeeze the Haqqanis with their funding and other aspects of their operations".
The United States recently accused the Haqqanis of orchestrating a 19-hour siege of the US embassy in Kabul, a September truck bombing on a Nato outpost that wounded 77 Americans and a June attack on Kabul's InterContinental hotel.
Clinton confirmed that the United States believes the network operates out of a "safe haven in Pakistan".
"And now it's a question as to how much cooperation Pakistanis will provide in going after those safe havens," she added.
Clinton is later Thursday due in Pakistan, where she is to be joined by CIA chief David Petraeus and top US military officer Martin Dempsey.
"We intend to push the Pakistanis very hard as to what they are willing and able to do with us...to remove the safe havens and the continuing threats across the border to Afghans," said Clinton.
Washington last month escalated pressure on Pakistan to crack down on the Haqqani network, with the then military chief Admiral Mike Mullen accusing Pakistani intelligence of involvement in the embassy siege.
US commanders say the Haqqanis are their most potent enemy in eastern Afghanistan and increasingly capable of launching high-profile attacks in Kabul. It is an Afghan Taliban faction, loyal to Taliban leader Mullah Omar.
Afghan Defence minister Abdul Rahim Wardak had said "Operation Knife Edge" was launched earlier this week, confirmed by a senior defence ministry official to be "largely against the Haqqani network".