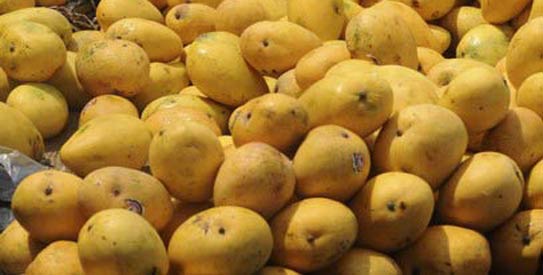 CHICAGO: Mangoes from Pakistan sweetened the taste buds of hundreds of guests at a Chicago hotel on Saturday evening amid hopes that they would also lessen the bitterness that seem to have marred US relations with Pakistan.
After irradiation at a facility in Iowa, fragrant chausas arrived at a tastefully decorated setting at the Palmer House Hilton where guests were waiting impatiently for the sweet gifts from Pakistan.
"Twenty years, after 20 long years," said Nematullah Chaudhry, a leader of the Pakistani-American community in Chicago while affectionately stroking two mangoes he was holding.
"I hope they also sweeten our relations with the US," said former foreign secretary Najamuddin Shaikh.
"My Pakistani friends say their mangoes are the best, so I am here to try them," said Liz, who only gave her first name. "And what I ate today was delicious."
Besides treating the guests at the Hilton, Pakistani diplomats also sent boxes to hundreds of prominent Americans, starting from the current occupants of the White House to Secretary of State Hillary Clinton and famous news anchors and journalists.
Secretary Clinton and the late envoy Richard Holbrooke played a key role in making the shipments possible.
"This is the result of two years of strategic dialogue with the Americans," said Ambassador Husain Haqqani who hoped the Pakistanis would succeed where the Indians failed.
India also started exporting mangoes to the United States three years ago but prohibitive costs made it difficult for ordinary Americans to buy the fruit at $3 a piece. A little logistic difficulty also marred the showcase event. Because of Ramazan, the inaugural ceremony had to be held hours after the mangoes arrived and so the mangoes were not ripe yet.
"Yes, they really are not as tasty as you get in Pakistan," said Javed Rana, another prominent Chicagoan of Pakistani origin. "But a chausa is a chausa." Clad in designer shalwar-kameezes, Pakistani begums were not behind their men when the hosts said that the guests could take the mangoes with them. Within minutes, more than 3,000 mangoes exhibited at the hotel's Grand Ballroom disappeared into handbags and pockets.
"It is de-shaping your $500 handbag," this correspondent said to a lady after she put in the 10th mango. "Yes, but these are Pakistani mangoes," she replied.
Perhaps that's why a famous Chicago physician ignored the stains they were leaving on his expensive suit as he stuffed them in his pockets.
Besides chilled mango chunks, the Pakistani consulate in Chicago also served ice cream, tarts, chutney, tortes, custard, pudding, pies and non-alcoholic margaritas and sangria, all made from Pakistani mangoes.
After a battery of impassioned mango speeches, the last mango masterpiece was revealed: a green and white fondant covered four-storey mango cake. The Chicago Tribune, America's fourth largest newspaper, published a 1000-word piece on Pakistani mangoes, which quoted a guest, Samina Khattak, as saying that these were better than Mexican and Indian mangoes.
Her comments could not have gone unnoticed by American-Indians. "Nothing compares to a good Indian alphonso," said Sweta Patel.
"I have tasted alphonsos and there is no competition," said MNA Farah Ispahani who came all the way from Pakistan to attend the ceremony. Murtaza Arain, one of America's top cardiologists, could not wait to try his chausas. He bit off the stem and tried to take a bite.
"Because most of the fresh mangoes on offer were not yet ripe, it's hard to say how they compare to premium mangoes like alphonsos," commented The Chicago Tribune.