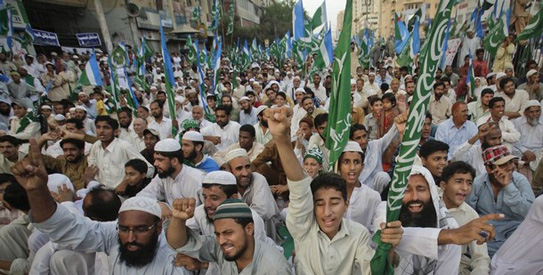 KARACHI: A two-day sit-in staged to protest against drone attacks concluded on Sunday with a warning to the relevant authorities that supplies to Nato forces in Afghanistan would be blocked if drone attacks continued.
Thousands of people carrying banners inscribed with anti-US slogans and party flags took part in the sit-in organised by the Jamaat-i-Islami.
The huge crowd comprising party workers, supporters and trade union leaders was addressed by JI chief Syed Munawwar Hasan, Sindh and Karachi chapter chiefs of the party Asadullah Bhutto and Mohammad Husain Mehnati, respectively.
Mr Hasan asked the government to stop supporting US policies which he said were detrimental to the sovereignty of Pakistan. "Pakistan is a sovereign state and the US has no right to interfere in the internal affairs of the country," he said.
The JI leader also called upon the authorities concerned to take immediate measures to implement the resolution passed in the parliament against drone attacks.
He said the US wanted to destabilise Pakistan for its "ulterior motives" and for this purpose as many as 2.5 million CIA operatives were active in the country. Citing the example of Raymond Davis, he said there were many Raymond Davis operating in the country.
Criticising government policies, the JI chief said: "A government has no right to call itself democratic when it does not honour decisions of parliament and the Supreme Court." Similarly, he added, the government could not claim itself Awami when it was incapable of solving problems of the people.
He said increasing hours of power loadshedding, rising inflation, unemployment and a number of extortion cases that had become a matter of routine were results of the so-called war on terror. "The so-called war on terror is not ours. We are fighting the US war and killing our own people for the sake of dollars," he remarked.
He said those who once were in the forefront to support US policies had started opposing its actions.
The JI leader urged the government to review its foreign policy in the larger interest of the country.
He said the next sit-in would be staged in Gujranwala to protest against drone attacks.
The JI leader also criticised the Muttahida Qaumi Movement and termed it a "terrorist organisation".
He said the MQM was equally responsible for "destroying the peace of Karachi by introducing an extortion culture in the city".
He criticised the government's reconciliation policy and described it as hypocrisy designed to perpetuate its rule.
The JI leader said the people wanted a change. However, he stressed the need for changing the attitude of the people. He urged the people not to vote for those who were responsible for the destruction of Karachi.