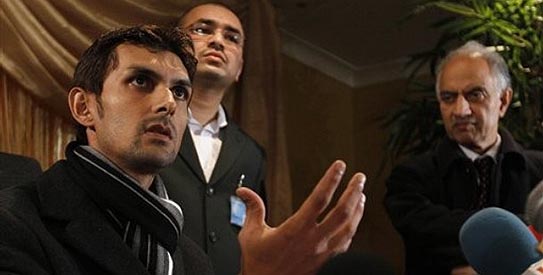 CAIRO: Egypt's ex-premier Ahmed Nazif and the former ministers of interior and finance are to face trial on charges of corruption, a judicial source told AFP on Sunday. Nazif, "former interior minister Habib al-Adly and former finance minister Yussef Boutros-Ghali will face trial, charged with misusing public funds and unlawful gains valued at 92 million Egyptian pounds (15 million dollars)," he said.
The three, along with a German businessman, are accused of illegal profiteering from a deal to import new vehicle number plates.
They allegedly bought the number plates directly without calling for a public tender as laid down by law.
They are also said to have bought the number plates for higher than their market price.
The trial is part of a sweeping probe into corruption launched under the ruling military council which took power when president Hosni Mubarak was ousted on February 11 following anti-regime protests.
Nazif, who Mubarak sacked along with his cabinet on January 28 in a bid to placate the growing protest movement, was remanded in custody on April 10.
Adly, the widely-reviled former interior minister, is already facing trial for fraud and is due to face criminal charges in connection with the shooting of protesters.
Boutros-Ghali, a nephew of former UN chief Boutros Boutros-Ghali and who held a senior post in the International Monetary Fund, is out of Egypt.
Nationwide anti-regime protests that erupted on January 25 ended Mubarak's 30-year reign of the Arab world's most populous country and saw power transfered to the Supreme Council of the Armed Forces, which vowed to bring to justice all those found guilty of abuse.