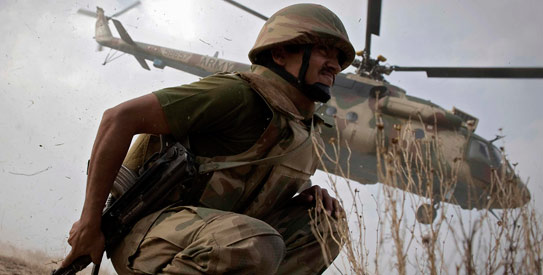 PESHAWAR: Pakistani troops and paramilitary forces, backed by helicopter gunships and warplanes, targeted Taliban positions in the tribal region of Mohmand near the Afghan border on Thursday, killing at least 18 militants, a regional government official said.
Pakistan's military has recently mounted an offensive in villages bordering Afghanistan's eastern province of Kunar in pursuit of militants linked to al Qaeda and Taliban who want to destabilise the US ally and impose Taliban-style rule.
"We are going after them with full force, using every kind of force. They carry out attacks and other activities from there," Masood Khan, the government official, said.
He said at least 18 militants were killed and 25 wounded in the fighting.
"The operation is still on," he said.
Militants have killed thousands of people in a campaign of bomb and suicide attacks in Pakistan in retaliation for government offensives against their bases on the Afghan border.
The United States, which plans to withdraw troops from Afghanistan in July, wants Pakistan to subdue Taliban fighters who use havens in the rugged tribal areas to launch cross-border attacks.